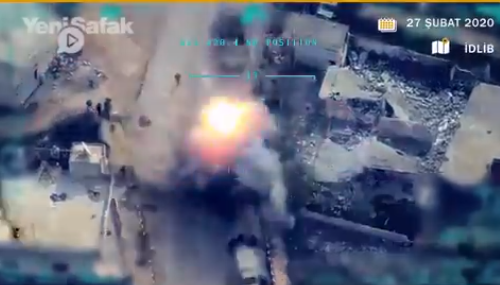 Snapshot
Videos have been posted on Twitter, shot by unmanned aerial vehicles showing what is reported to be massive strikes by Turkish air forces on enemy convoys, military hardware, and personnel in Syria's Idlib "de-escalation zone".
The move is seen as retaliation for the latest deadly air raid by Assad forces that killed at least 33 Turkish soldiers in the area.
Also, Turkey bombed enemy headquarters and ammunition depots.
İDLİB'TEN SICAK GÖRÜNTÜLER

İdlib'de askerlerimize yapılan alçak saldırıya karşı yapılan misillemede Suriye rejiminin çok sayıda tank ve topçu unsuru imha edildi. pic.twitter.com/7wtRdDCscT

— Yeni Şafak (@yenisafak) February 28, 2020
As reported earlier by Anadolu, a rally was held February 28 outside Russia's consulate in Istanbul in protest against Russia's support for the Assad troops in Syria.
Turkey is convening on Friday an extraordinary NATO meeting in line with Article 4 of the NATO Treaty, according to Jens Stoltenberg, the Alliance chief.