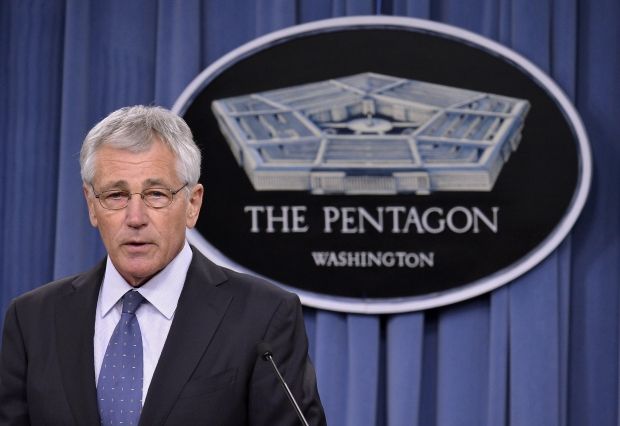 REUTERS
Sent to Congress this month, the two documents ask permission to shift more than $ 4.8 billion in the current fiscal year's budget. While most of the shifts requested are linked to the airstrike campaign against Islamic State militants in Iraq and Syria, others illustrate a quiet change in Defense Department priorities following Moscow's invasion of eastern Ukraine, according to Defense One.
Although Russia is not mentioned in either document, one of 74 pages and the other of 21 pages, several of the requested moves would affect U.S. military commands that defend U.S. territory or would be vulnerable to an attack by Moscow. For instance, the Army wants to spend $ 160 million to put "increased lethality" 30mm cannons on its Stryker armored vehicles based in Europe. The new weapons "support an urgent Operational Needs Statement … to fill a capability gap," one document says.
Then there's $ 5 million to develop sub-hunting acoustic sensors, which "addresses emergent real-world threats." The commanders of U.S. European Command, Northern Command and Strategic Command have all requested this equipment, suggesting that it likely involves Russia, particularly since the military is already concerned about Moscow's subs launching cruise missiles at American cities. There's also $24 million for a sub-detecting sonar system that is towed behind a Navy ship.
Every year in June at the end of the Defense Department's third fiscal quarter, the Pentagon sends Congress a series of requests to shift money around within its budget. This reprogramming request, which is of great interest to those who track individual program spending, shows how the Pentagon priorities can shift quickly.
This year's 2015 budget was largely arranged in mid- to late 2013, before Russia invaded Crimea. Pro-Moscow forces invaded the Ukrainian peninsula just days before the Pentagon sent its 2015 budget proposal to Congress on March 4, 2014. Since then, the U.S. and NATO have stepped up training exercises, war games and rotational deployments to the region. The Pentagon's new National Military Strategy, announced last week, makes numerous references to Russian threats.