Myth of Russia helping Greece falls apart
21:30, 13 July 2015
World
As Greece grapples with its European creditors, a myth that Russian brothers will come to the country's rescue is being busted for good.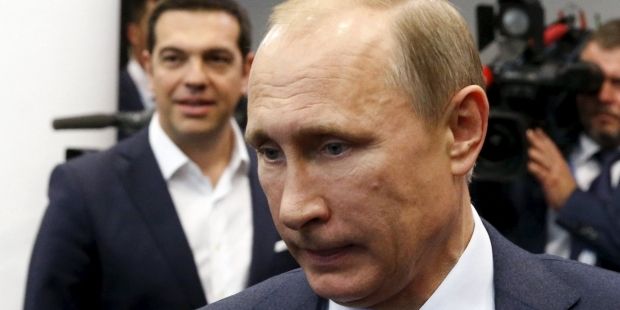 REUTERS
Religious affinity through the Orthodox Church, and recent high-profile visits by Greek Prime Minister Alexis Tsipras to Moscow and St. Petersburg have cultivated among many Greeks, from voters to some in government, the dream that their Russian brothers will come to the rescue should relations with Europe fall apart, according to Paul Sonne and Matina Stevis reporting for The Wall Street Journal.
Russian officials back away from any idea of a Kremlin aid package, and Greece's problems grow so large that Moscow would face difficulty mounting a rescue even if it wanted to.
Russian President Vladimir Putin reiterated on Friday that Greece has made no request for aid to Russia, making it clear that Athens's diplomatic flirtation with Moscow was likelier done for leverage against its eurozone creditors, rather than because it might lead to an alternative pact.
What happened to Cyprus two years ago, shows the limits of what Moscow could offer Athens. In the case of Greece, a Russian assistance package is rendered even unlikelier because of the large sums involved, even for an energy powerhouse like Russia.
"It was an ideal opportunity if Russia had really wanted to get something out of this, and in many ways Cyprus has closer links to Russia than Greece has. But if Russia wasn't willing to do it for Cyprus, why would they do it for Greece?" said James Ker-Lindsay of the London School of Economics, who is an expert on the region.
Although Mr. Tsipras failed to secure aid money from Russia, his high-profile flirting with Mr. Putin has succeeded in shifting the debate about Greece's bailout to questions of geopolitical and strategic risk from issues of sheer finance.
Some experts believe that Russia attempted to divide the EU with boosting its relations with Greece. But the experts and Russian politicians deny such claims.
"Greece is a voice in the EU, and it is better for Russia to keep Greece in the eurozone, where its role in Europe is maximized, and it can be a strong voice for Russia," Ker-Lindsay says.
Meanwhile, the eurozone leaders made Greece surrender much of its sovereignty to outside supervision on Monday in return for agreeing to talks on an EUR 86 billion ($95 billion) bailout to keep the near-bankrupt country in the single currency, according to Reuters.
The terms imposed by international lenders led by Germany in all-night talks at an emergency summit obliged leftist Prime Minister Alexis Tsipras to abandon promises of ending austerity and could fracture his government and cause an outcry in Greece.
Six sweeping measures including spending cuts, tax hikes and pension reforms must be enacted by Wednesday night and the entire package endorsed by parliament before talks can start, the leaders decided.
Tsipras accepted a compromise on German-led demands for the sequestration of Greek state assets worth EUR 50 billion - including recapitalized banks - in a trust fund beyond government reach, to be sold off primarily to pay down debt. In a gesture to Greece, some EUR 12.5 billion of the proceeds would go to investment in Greece, said German Chancellor Angela Merkel.
One diplomat said that was tantamount to turning Greece into a "German protectorate". But Merkel declared the matter a "red line" for Germany.
If you see a spelling error on our site, select it and press Ctrl+Enter