U.S., Turkey agree on buffer zone in northern Syria
09:42, 27 July 2015
World
Turkey and the United States have agreed on the outlines of a de facto "safe zone" along the Turkey-Syria border allowing to significantly increase the scope and pace of the U.S.-led air war against the Islamic State in northern Syria, The Washington Post reported with reference to Turkish and American officials.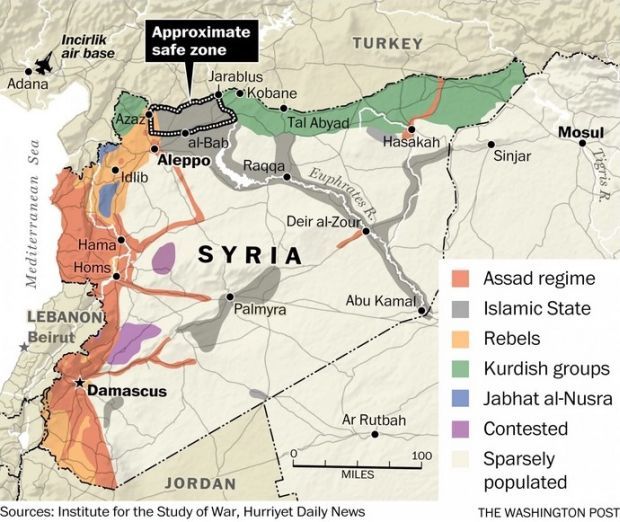 washingtonpost.com
The agreement includes a plan to drive the Islamic State out of a 68-mile-long area west of the Euphrates River and reaching into the province of Aleppo that would then come under the control of the Syrian opposition. If fully implemented, this would benefit rebels fighting President Bashar al-Assad's regime as it would also bring American planes in regular, close proximity to bases, aircraft and air defenses operated by the Syrian government, according to the publication.
The area could eventually become a protected haven for some of the estimated 2 million Syrian civilians who have fled to Turkey.
As UNIAN reported earlier, the Turkish authorities are not considering options for deploying ground troops in the territory of Syria.
Earlier, the EU also voiced its support to Ankara in the fight against terrorists, but underlined the fundamental importance of keeping the settlement process with the Kurds on track.
If you see a spelling error on our site, select it and press Ctrl+Enter