New blast in Bangkok
13:03, 18 August 2015
World
Another blast hits the center of Bangkok as a man throws explosives from bridge in city center, according to Reuters.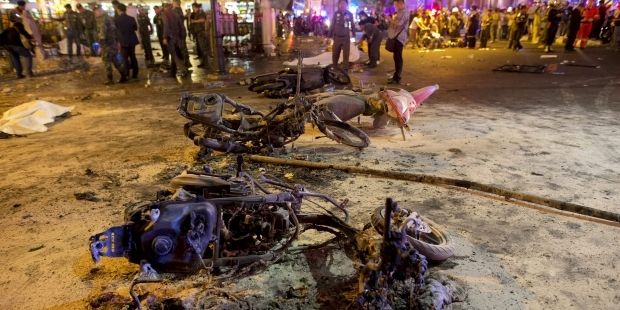 REUTERS
"A small explosive was thrown from a bridge over a river but no one was injured," a police officer at the scene said, the report reads.
According to a local police chief, had the explosive not landed in water, casualties would have been imminent.
National police chief Somyot Pumpanmuang said the suspect, who was wearing a yellow shirt and was seen in a first CCTV image with a backpack and then in a later one without the bag, could be Thai or a foreigner.
"That man was carrying a backpack and walked past the scene at the time of the incident. But we need to look at the before and after CCTV footage to see if there is a link with the previous attack," Somyot told a news conference.
Police earlier said they had not ruled out any group, including elements opposed to the military government, for the bombing at the Erawan shrine on Monday evening, although officials said the attack did not match the tactics of Muslim insurgents in the south.
Prime Minister Prayuth Chan-ocha said, "Today we have seen the closed-circuit footage, we saw some suspects, but it wasn't clear," Prayuth said. "We have to find them first," according to the New York Post.
As UNIAN reported earlier, the Bangkok bomb exploded at the Ratchaprasong intersection downtown Thailand's capital on Monday, killing 20 people and injuring at least 123.
If you see a spelling error on our site, select it and press Ctrl+Enter