Three children, one woman killed in new bus crash in Romania
17:50, 19 August 2015
World
Three children and a woman were killed in a new road accident in Romania on Wednesday morning, which involved a tourist bus with 36 passengers, including Ukrainian citizens, according to Romanian news portal viata-libera.ro.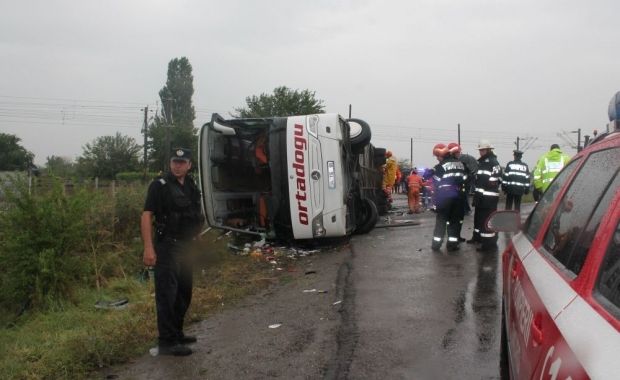 A new bus crash has occured in Romania / Photo from viata-libera.ro
The victims, including two siblings, were all from the Republic of Moldova, Radio Moldova said.
Twenty-one injured people with five children aged from 4 to 15 were rushed to hospitals in Braila and Galati.
The Ukrainian Foreign Ministry said it was checking information whether there were Ukrainians among the casualties.
Press officer of the Ministry of Foreign Affairs and European Integration of the Republic of Moldova Ana Taban said that the bus was registered in Turkey. It was heading from Istanbul to Chisinau via Bucharest.
According to the preliminary conclusions by the local police, the driver might have lost control of the bus due to bad weather conditions.
viata-libera.ro
As UNIAN reported earlier, a road accident involving a tourist bus with 51 Ukrainian citizens, including at least 25 children, occurred 53 km far from Bucharest, Romania, on the Constanta-Bucharest highway at about 01:00 local time on August 9. Two Ukrainians, including a child, were killed; 48 were injured.
If you see a spelling error on our site, select it and press Ctrl+Enter