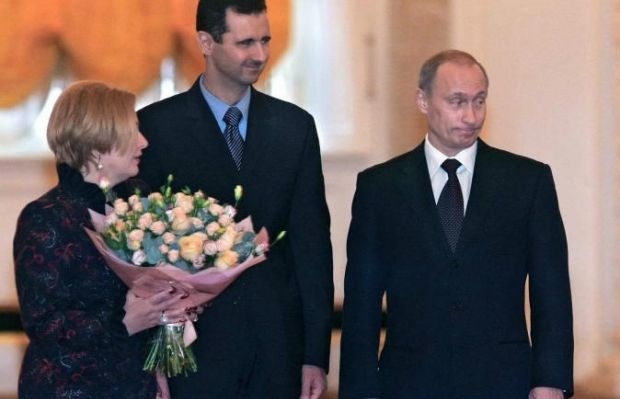 REUTERS
"In addition to over 2,000 barrel bombs the Assad regime has dropped on civilians since July, there is evidence that the regime has used chemical weapons against civilians and employed systematic torture to kill at least 11,000 civilians in custody. All of these actions could form the basis for future prosecutions against the Assad military and top Syrian officials, on charges of war crimes and crimes against humanity," Bloomberg View columnist Josh Rogin wrote in the article titled "Russia Risks Being Prosecuted for Syria's War Crimes," published on September 30.
According to the article, experts on war crimes prosecutions say that by supporting the army behind these crimes, Russia has opened itself up to the charge of "aiding and abetting" war crimes. It is a young and evolving area of international law, used successfully to prosecute the prime minister of Serbia for atrocities in the former Yugoslavia and to prosecute Liberian President Charles Taylor for helping the Revolutionary United Front and Armed Forces Revolutionary Council during Sierra Leone's civil war.
"The Russians are walking into a situation where they could be held criminally responsible," said Stephen Rapp, who served as the United States ambassador at large for war crimes from 2009 until this year. "If you aid the Syrian air force in committing war crimes such as dropping barrel bombs on civilians, you can find yourself held responsible right up to the top, including President Putin."
The Russian aid to Syria doesn't actually have to be used in the war crimes for criminal liability to kick in, Rapp said. All a prosecutor would have to prove is that Russian officials were aware of Assad's atrocities and that the assistance to the regime committing the atrocities was substantial.
"If Syria is just persecuting their population, which could be an international crime, and Russia is providing military assistance to them, that's probably going too far to say they are criminally liable for these atrocities," said William Schabas, a professor of international law at Middlesex University and president of the International Association of Genocide Scholars. "There's a requirement of some element of directness and knowledge in terms of the precise atrocities."
Schabas also pointed out that other countries could stand accused of aiding groups that are committing war crimes around the world. The United States, for example, provides military aid to the Iraqi military and the South Sudan army, just to name two accused groups. But the United States also has processes under the Leahy law that are meant to prevent direct aid to military forces that violate human rights. Russia has no such process.