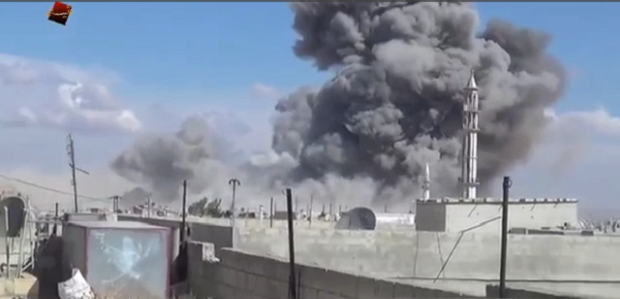 Screenshot
The UK-based Syrian Observatory for Human Rights, which monitors the conflict with a network of sources on the ground, said Islamic State had no presence in the western and northern areas that were struck, Reuters has reported.
The Observatory's head, Rami Abdulrahman, said one of the targets hit in the latest Russian air strikes, the town of Dar Tazzah in northwestern Aleppo province, was controlled by a number of insurgent groups including the al Qaeda-linked Nusra Front.
Read alsoRussian Defense Ministry shows video with Russian air strikes in SyriaRussia has however also struck Islamic State areas in a small number of other attacks further east. The Observatory said 12 Islamic State fighters were killed near Raqqa on Thursday, and planes believed to be Russian had also struck the Islamic State-held city of Qarytayn.
Washington, which is leading its own air campaign against Islamic State, says Moscow has been using its campaign as a pretext to hit other groups opposed to Russia's ally, President Bashar al-Assad.
Some of the groups that have been hit are supported by countries which oppose both Assad and Islamic State, including at least one group that received training from the CIA.
Moscow said on Friday its latest strikes had hit 12 Islamic State targets, but most of the areas it described were in parts of the country where the militant group has little or no sway.