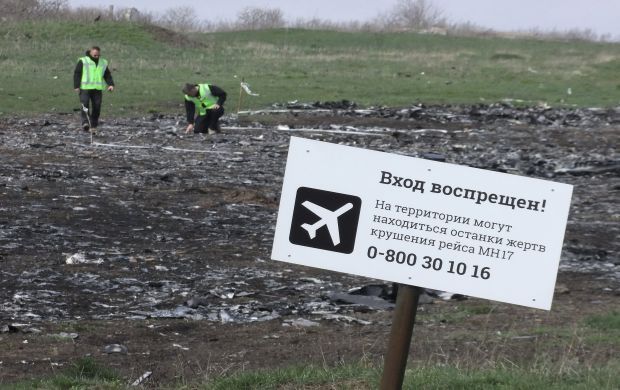 REUTERS
"There were no Russian satellites over these territories at the time of launching Buk missiles. Whose satellites were there? Those who have the images should provide them. One of the major powers has the images of a crash and a crash scene. I don't know why they still haven't been released. An international group hasn't received these shots, either," he said.
According to Vovk, satellite images can become crucial evidence, "but at the moment there are no such images avaliable [to investigation]."
In addition, Vovk said that a technical expertise was underway.
Read alsoFive countries may establish their own tribunal on MH17"There is a hangar in the Netherlands, where the aircraft is being reconstructed. Luggage, objects, pieces, nails, pins - all that was collected at the scene, and may even be unrelated to a crash, but from an area defined for expertise... These are materials for technical expertise. The rest of the experts who study, for example, the trajectory of missiles and aircraft, don't depend on reenactors, but can be involved if necessary... However, experts are mainly studying issues related to the material sources of information in order to compare theoretical calculations and make a more accurate conclusion – what was the missile's speed and at what speed it hit the aircraft," he said.
Read alsoMH17: Bellingcat identifies those involved in transporting BukUNIAN memo. Flight MH17 from Amsterdam to Kuala Lumpur was downed in Donetsk region on July 17, 2014. There is mounting evidence that the plane was shot down by a powerful Buk-M anti-aircraft missile system. All 298 people on board were killed. Most of the passengers, 194, were Dutch citizens, while 43 people, including all of the aircraft's crew, were citizens of Malaysia.
The plane crashed near Shakhtarsk in Donetsk region, in an area controlled by Russian-backed militants.
The bodies of the crash victims were transferred to the Netherlands for forensic medical examination and identification.
On July 24, 2014, Ukraine delegated the investigation of the aircraft crash to the Netherlands.