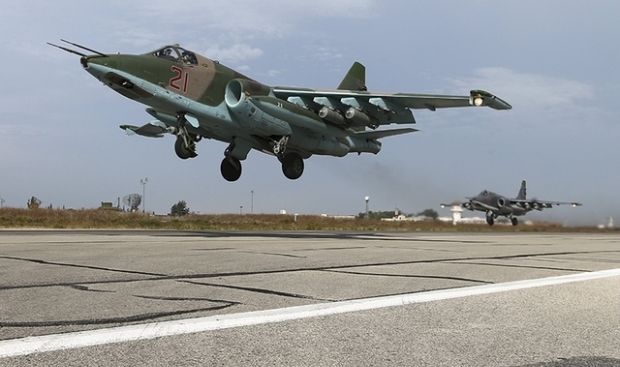 REUTERS
"The ground offensive is the biggest we have seen in the Aleppo countryside in two years," says Abdul Rahman, a commander with the Ahfad Omer battalion, part of the larger First Brigade, a U.S.-backed secular militia, VOA wrote.
"The Russians are burning and flattening everything," Rahman explains, arguing the scorched-earth tactics are reminiscent of what the Russians did to the Chechen capital Grozny in 1994, reducing it to rubble.
"There are 50 or 60 airstrikes a day," he said. The difference is the Russians are not bombing a built-up city, but spread-out villages, some the poorest in northern Syria.
Rebel commanders acknowledged to VOA the Russian intervention has changed the dynamics on the battlefields across northern Syria, from coastal Latakia through the inland provinces of Hama and Idlib, and then into Aleppo governorate.
What is more, Syrian rebels dismiss recent claims by Russian Foreign Minister Sergei Lavrov that Russia is ready to help units of the "patriotic opposition" in Syria, specifically the Free Syrian Army, if only they knew their whereabouts.
"They know where we are, they are bombing us," said Abdul Rahman.
The rebels battling to topple President Bashar al-Assad insist there's no risk of their insurgency collapsing. They respond with derision at suggestions of a political solution.
"The solution is simple. It is not complicated. Assad, his inner circle, the security apparatus and all the intelligence agencies, all have to go," said 35-year-old Zakaria Malahefji, a former higher education teacher and political officer of the 3,000-strong Fastaqim Kama Umirt, a brigade aligned to the rebel alliance Jaish al-Mujahideen (Army of Holy Warriors).
As UNIAN reported earlier, the Syrian opposition previously declined Russia's proposal to support the ground operation of the anti-government forces in Syria against ISIS.
Russia launched its offensive in Syria on September 30, allegedly hitting ISIS positions. Russian air strikes are accompanied by the land operation by Syrian President Bashar al-Assad's armed forces.