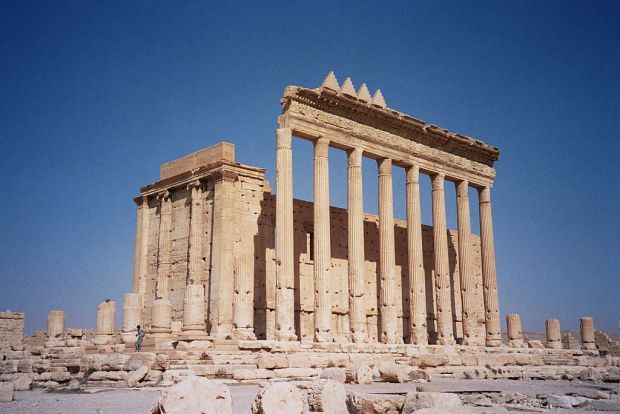 Syria's Palmyra / Photo from flickr.com/photos/upyernoz
An activist in Palmyra who goes by the name Nasser al-Thaer said at least eight airstrikes struck the area of the Islamic-era castle, sending smoke and clouds of dust rising from the hill where the castle is located. An earlier round of airstrikes on Sunday hit behind the castle, al-Thaer told The Associated Press in a series of telephone messages.
He said it was difficult to assess damage because of the ongoing airstrikes.
The Britain-based Syrian Observatory for Human Rights said 10 suspected Russian airstrikes targeted the castle area in Palmyra, causing damage. The group, which relies on a network of activists inside Syria, did not provide further details.
Palmyra, seized by the IS group in May, is home to world-famous Roman ruins and was one of Syria's most attractive tourist destinations. The Islamic State group has destroyed a number of its renowned sites, including the Temple of Bel and the iconic Arc of Triumph, because it believes ancient artifacts promote idolatry.
Activists also reported suspected Russian airstrikes on a nearby town, Qaryatain, which was seized by IS fighters in August. The Observatory said at least 10 people were killed in the central town. The Local Coordination Committees, another monitoring group, said at least 15 civilians were killed after the airstrikes hit a bread distribution center.
There was no immediate comment from Russian officials. In comments to the Syrian state news agency SANA, a military official said the Russian Air Force, in cooperation with the Syrian Air Force, carried out 131 sorties which resulted in destroying 237 terrorist targets during the past 48 hours, including "destroying fortified bases, shelters, and a heavy machinegun sites used by (IS) in the surroundings of Palmyra."
The airstrikes come a day after Islamic State fighters expanded their presence in the central Homs province. IS fighters seized the town of Mahin, east of Qaryatain, on Sunday, and attacked the majority-Christian town of Sadad. The new expansion brings the IS group closer to a highway linking Damascus to the central Homs province, threatening to endanger government supply routes.
IS strongholds lie in the northern Aleppo province and the eastern Raqqa, Deir el-Zour and Hassakeh provinces. Beyond its presence in central Palmyra, a city that in ancient times served as a caravan route between the Roman Empire and South Asia, the group has a limited presence in the central Hama province and on the outskirts of the capital Damascus.
Russia has said its air campaign is aimed at helping the Syrian government defeat the IS group and other "terrorists," but many of its airstrikes have hit Syrian rebel groups and areas where IS is not present.