U.S. Army Chief of Staff Gen. Milley: I see Russia as aggressive
10:45, 04 November 2015
World
U.S. Army Chief of Staff Gen. Mark Milley says that the situation with Russia is becoming more serious and sees Russia as aggressive.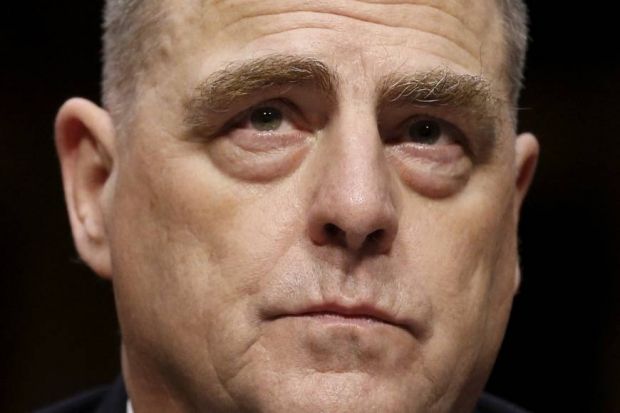 U.S. Army Chief of Staff Gen. Mark Milley / REUTERS
"The situation with Russia is, in my mind, serious and growing more serious. I see Russia as aggressive, not just assertive. They attacked Georgia, they illegally seized the Crimea, they have attacked Ukraine, all of those countries were free and independent and have been sovereign nations now for a quarter of a century, since the fall of the Berlin wall. So, that's not just assertive behavior that is aggressive," he said at the 3rd Annual Defense One Summit in Washington, DC, the United States.
Answering a question from Jennifer Griffin, a Fox News national security correspondent, whether he considers Russia a greater threat to the United States than ISIS at the moment, Milley said that Russia is the number one threat to the United States.
"I said in testimony that I considered Russia the number one threat to the United States. The reason I said that was twofold: one is capability and the second is intent. In terms of capability, Russia is the only country on Earth that has the capability to destroy the United States of America. It is an existential threat by definition, because of their nuclear capabilities. Other countries have nuclear weapons, but none as many as Russia and none have the capability to destroy – literally destroy – the United States," he said.
"So, they have the capability in nuclear weapons to destroy us, but capability itself is not enough, it has to be matched by some form of intent. And, as I said, it is very difficult to define future intent. Intent can change as well. But one way to look at it, an indicator to look at it, is past behavior," he added.
In his words, from the fall of the Berlin wall until 2007-2008, Russia was not demonstrating any intent to have an aggressive foreign policy against other countries.
" Since 2008, Russia has. And they in violation of a wide range of international norms that have been in place since the treaty of Westphalia in 1648. So, they have invaded the sovereign territory of other countries in an aggressive manner. Why is Putin doing it? What he is going to do next? I am not so sure. <...> But, their behavior is aggressive, their capability – nuclear capability – significant, they have re-organized their conventional capability, their special operations capability, so Russia bears close watching and that is why I said they are the number one threat to the United States," he said.
The summit has become a must-attend event for U.S. national security leaders. This year's theme was "The Age of Everything," a focus how commanders and security leaders are meeting the high demand for all types of missions and threats.
Agencies and organizations represented at the Defense One Summit included: the U.S. Department of Defense, the U.S. Army, the U.S. Navy, U.S. Special Operations Command, CIA, the FBI, the White House, the U.S. Department of Justice, the National Counterterrorism Center, Intelligence Advanced Research Projects Activity (IARPA), in addition to defense industry leaders and technology experts.
If you see a spelling error on our site, select it and press Ctrl+Enter