Reuters: Russia's Syria force grows to 4,000, U.S. officials say
08:05, 05 November 2015
World
Moscow's military force in Syria has grown to about 4,000 personnel, but this and more than a month of Russian air strikes have not led to pro-government forces making significant territorial gains, U.S. security officials and independent experts said, according to Reuters.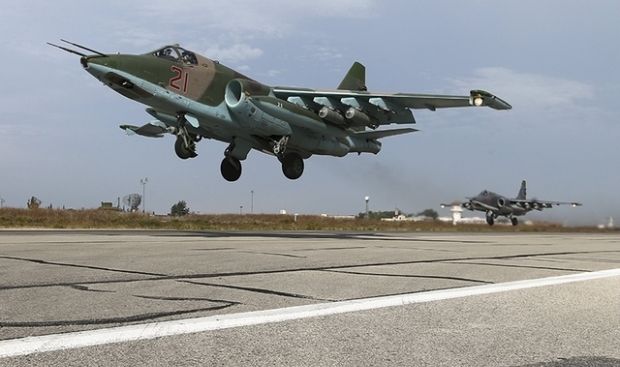 REUTERS
Moscow, which has maintained a military presence in Syria for decades as an ally of the ruling Assad family, had an estimated 2,000 personnel in the country when it began air strikes on September 30. The Russian force has since roughly doubled and the number of bases it is using has grown, U.S. security officials said, Reuters wrote.
The Russians have suffered combat casualties, including deaths, said three U.S. security officials familiar with U.S. intelligence reporting, adding that they did not know the exact numbers.
The United States has extensive intelligence assets in the region, along with satellite imagery and electronic eavesdropping coverage and contacts with moderate Sunni and Kurdish rebels on the ground in Syria.
Russia's foreign ministry declined to comment on the size of the Russian contingent in Syria or any casualties it has suffered. It referred questions to the Russian Defense Ministry, which did not respond to written questions submitted by Reuters.
The Kremlin has said there are no Russian troops in combat roles in Syria, though it has said there are trainers and advisers working alongside the Syrian military and also forces guarding Russia's bases in western Syria.
The only death the Russian government has reported was that of a serviceman who the military said died by suicide. The man's parents have said they doubted this account.
The United States has strongly criticized President Vladimir Putin's military intervention in Syria's 4-1/2-year civil war, and President Barack Obama has predicted it could lead to a quagmire for Russia.
But Obama has had little success in affecting the conflict himself. Washington has targeted Islamic State in more than a year of air strikes, and last week Obama ordered the first U.S. troops into Syria – a small contingent of up to 50 special operations forces who will advise U.S.-backed rebels.
If you see a spelling error on our site, select it and press Ctrl+Enter