The Independent: Putin accuses Cameron of 'shocking failure' in sharing intelligence
Britain is embroiled in a deepening diplomatic clash with Russia after the Kremlin accused Downing Street of a "shocking" failure to share intelligence that ministers claim strongly indicates the Russian plane crash over Sinai was caused by an ISIS bomb, according to The Independent.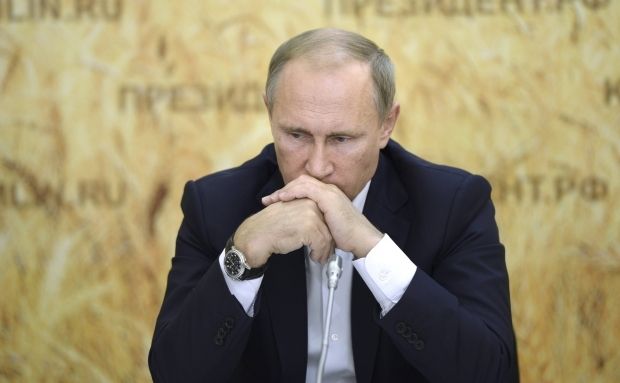 REUTERS
David Cameron defended his decision to suspend flights to the UK from the Egyptian resort of Sharm el-Sheikh amid terrorism fears, telling President Vladimir Putin that Britain had acted to protect its citizens, The Independent wrote.
Russian and Egyptian investigations into the cause of the crash are yet to reach a conclusion, but had been pointing toward technical failure.
Cameron said on November 5 that it was "more likely than not" that a bomb had downed the plane. Speaking after chairing a meeting of the Government's emergency committee Cobra on November 5, Cameron said: "The decisions that I'm taking are about putting the safety of British people first. What we need to put in place is more security at that airport so it is safe to fly people home. There is still an investigation taking place in Egypt. We need to see the results of that investigation. The reason we have acted before that is because of intelligence and information we had that gave us the concern that it was more likely than not a terrorist bomb."
If, as both UK and U.S. intelligence now strongly suspect, an ISIS bomb did cause the A321 Airbus to crash, killing 224 people, it would be extremely damaging for President Putin, who recently committed Russian forces to combat operations against ISIS in Syria, and could have devastating repercussions for the Egyptian tourist industry.
It would also mark a dramatic shift in the jihadist group's strategy. An ISIS affiliate in Egypt has claimed responsibility for the attack, but the claims had until now been dismissed. As the Prime Minister hosted Egyptian president Abdel Fattah al-Sisi, in a pre-planned visit that was overshadowed by the diplomatic row over the crash, thousands of British tourists stranded in Sharm el-Sheikh were told they would be able to fly home on November 6 – but only with their hand luggage, as investigations into security at the airport centred on baggage handlers. EasyJet and Monarch airlines said they would fly out empty planes to bring UK citizens home after all 16 flights from Sharm were cancelled. The two airlines will dispatch 13 flights between them. Thomson Airways also said it would bring British tourists home.
Holidaymakers have been told their hold luggage will not be carried on the same plane, but will be returned to them by a UK government agency.
Around 20,000 UK citizens are known to be in Sharm. Flights to Sharm from the UK remain suspended.
UK security experts, including six military logistics experts, have assessed security at Sharm. Downing Street said a range of actions were being considered to strengthen security and did not rule out background checks on baggage handlers.
Speaking alongside President Sisi in Downing Street, Cameron said the UK was working closely with Egypt on security at the airport. President Sisi said his country would cooperate, but claimed that a UK team had approved of measures in place at Sharm airport 10 months ago. Downing Street said its latest action was a response to an "evolving threat."
As officials refused to confirm the exact nature of the threat identified by the U.S. and the UK, Russia's Foreign Ministry spokesperson Maria Zakharova told reporters that Britain's failure to hand over their intelligence is "shocking."
"It is genuinely shocking to think that the British Government has some kind of information that could cast light on what happened in the skies above Egypt," Zakharova said. "If such information exists, and judging by what the Foreign Secretary has said it does, no one has passed it to the Russian side."
The UK Foreign Secretary, Philip Hammond, had confirmed earlier in the day that the Government now believes there is a "significant possibility" that ISIS was behind the plane crash.
The British Prime Minister's official spokeswoman did not confirm whether Cameron had shared the intelligence with Putin during their 10-minute phone call on November 5, saying Downing Street could not comment on intelligence matters.
"[President Putin] underlined that he thought all countries should wait for the investigation to be completed," she said. "The Prime Minister was very clear that he would be driven by what was right for the safety of British citizens and that we were right to take the action that we did based on the information that we have in front of us and our assessment of the situation."
However, U.S. intelligence is also increasingly persuaded that the plane crash was the result of an act of terror. U.S. representative Michael McCaul, chairman of the House Homeland Security Committee, said "all indicators seem to be pointing" to an ISIS attack with an explosive device. 
If you see a spelling error on our site, select it and press Ctrl+Enter