Russian performance artist Pavlensky describes FSB HQ door on fire as 'gesture'
09:00, 13 November 2015
World
Russian performance artist Pyotr Pavlensky says he set fire to the entrance of the Russian FSB Federal Security Service headquarters as a gesture in the face of FSB "terrorism," according to RFE/RL.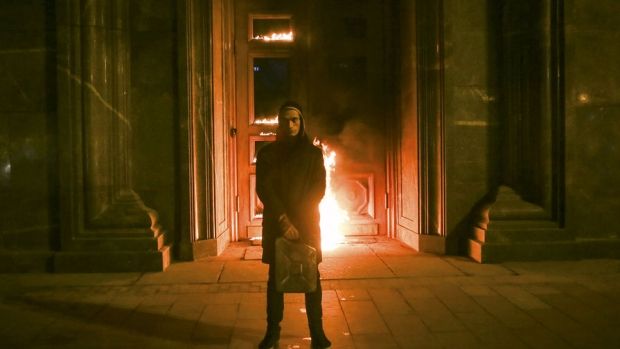 Pavlensky set fire to the wooden doors of the imposing former KGB building in downtown Moscow / Photo from gazeta.ru
Answering a question from RFE/RL how he describes his action – hooliganism, vandalism, or something else, Pavlensky, who is now kept behind bars, said: "I would say that it can be seen as a gesture. The burning door is a gesture, a slap, a gauntlet in the face of terrorism."
He claims it was a "form of one-man picket." "I'm just offering society a different form of it," he said.
Pavlensky insists that the FSB poses a threat to 146 million Russian citizens.
In his words, here have been many statements by the government that is urging to fight terrorism.
"I fight terrorism and terror, too," he added.
Pavlensky, known for his anti-Kremlin performances, set fire to the wooden doors of the imposing former KGB building in downtown Moscow in the early hours of November 9.
A video of the nighttime action that shows Pavlensky standing motionless in front of the blaze holding a jerry can has gone viral. "The Federal Security Service is using the method of continuous terror and holding power over 146,000,000 people," Pavlensky said in a message released with the video.
Pavlensky has consistently courted controversy since exploding onto the scene in 2012, when he sutured his lips shut to support punk performance group Pussy Riot over their jailing for an anti-Putin protest.
The 31-year-old St. Petersburg native gained worldwide fame in November 2013 when he nailed his scrotum to cobblestones on Moscow's Red Square to protest against police controls. Other shocking performances have included wrapping himself naked in barbed wire and cutting off part of his ear.
Pavlensky had already been charged with vandalism – and could face prison time – for an earlier action in St. Petersburg last year in which he and other activists set fire to tires and waved a Ukrainian flag. That performance aimed at stimulating the pro-democracy protests in Kyiv that led to the 2014 ouster of Russia-friendly Ukrainian President Viktor Yanukovych, RFE/RL wrote.
If you see a spelling error on our site, select it and press Ctrl+Enter