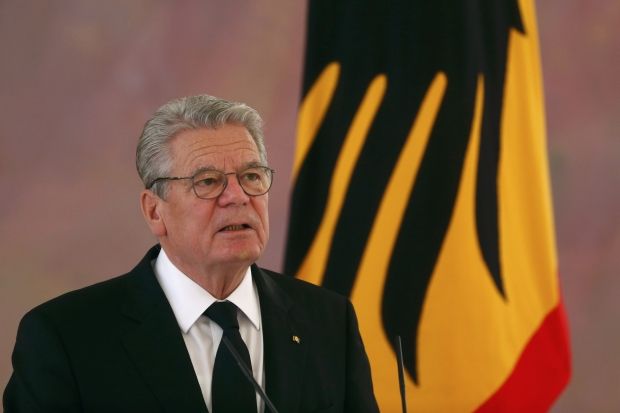 REUTERS
"We live in times in which we honor the victims of a new kind of war," Gauck told an audience of his fellow politicians in the Bundestag, DW reports.
His speech was meant to commemorate Germany's National Day of Mourning, an occasion that honors the victims of war. But it carried a special resonance this year, coming less than two days after the most brutal terrorist attack in France's history.
"The community of democrats is stronger than the globalization of hatred," he said in front of an audience of his fellow politicians.
"In the face of destruction and death, in this moment of need and mourning, we sympathize with our neighbors across the Rhine."
Gauck's speech came as politicians across Europe and the world consider the next steps they will take in response to this weekend's tragedy. Following claims that the "Islamic State" (IS) militant group was responsible for the attack, many governments are mulling a new strategy to end the ongoing conflict in the Middle East.
European ministers on Sunday announced they would hold crisis talks on Sunday to discuss the implications of the terrorist attacks on their security strategy.
As the shadow of an intensified conflict in the region looms over Europe, Gauck also paid tribute to German soldiers who had died while stationed abroad. Germany still has troops in Afghanistan and announced recently it was planning to send more troops there over the next year.