Obama urges Russia to join renewed effort to fight Islamic State
10:35, 16 November 2015
World
U.S. President Barack Obama vowed on Sunday to step up efforts to eliminate Islamic State and prevent more attacks like those in Paris, while urging Russian President Vladimir Putin to focus on combating the terrorist group in Syria, Reuters reported.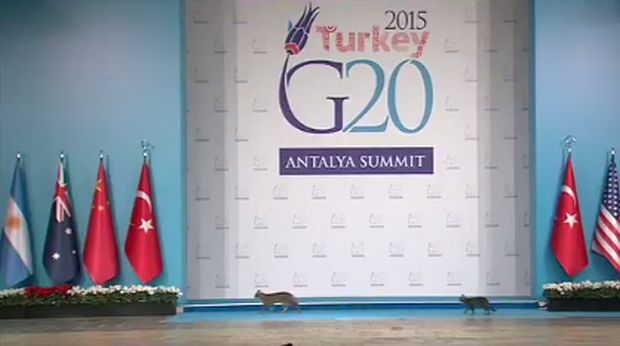 twitter.com/DuncanCStone
A White House official said Obama and Putin held a 35-minute meeting on the sidelines of a G20 summit in Turkey during which they agreed on the need for a political transition in Syria, saying events in Paris had made it all the more urgent, according to the report.
"We will redouble our efforts, working with other members of the coalition, to bring about a peaceful transition in Syria and to eliminate Daesh as a force that can create so much pain and suffering for people in Paris, in Ankara, and in other parts of the globe," Obama said, using the Arabic acronym for Islamic State.
U.N. Secretary-General Ban Ki-moon said he welcomed the renewed sense of urgency to find a solution to the war in Syria after the Paris attacks, adding the world had a "rare moment" of diplomatic opportunity to end the violence.
Another major challenge remains an influx of refugees and migrants from the Middle East and Africa. The G20 leaders have agreed that migration is a global problem that must be addressed in a coordinated way, according to Reuters.
Europe and Turkey, the most heavily hit by the crisis, had been pushing for the G20 to recognize the issue as a global problem and help to deal with it financially, despite opposition from China, India and Russia, as noted in the report.
According to a separate draft statement, they also agreed to step up border controls and aviation security in the wake of the Paris attacks.
If you see a spelling error on our site, select it and press Ctrl+Enter