Putin demands apologies, compensation for downed jet from Turkey
14:25, 26 November 2015
World
Russian President Vladimir Putin demanded an apology and compensation from Turkey's top authorities for the downing of Russian Su-24 bomber, according to an UNIAN correspondent in Moscow.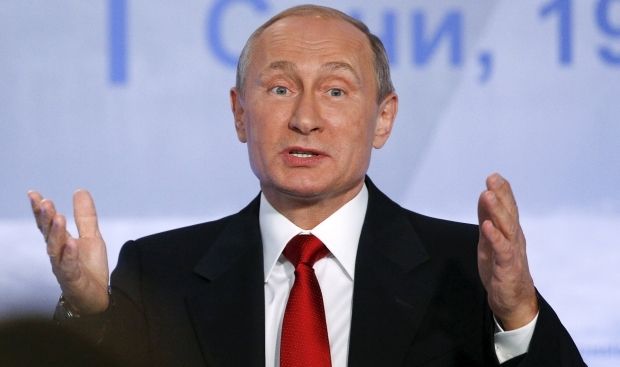 REUTERS
"I must say that we see as absolutely inexplicable the treacherous backstabbing by those, whom we have seen as partners and allies in the fight against terrorism. I mean the incident with the Russian bomber shot down by Turkish Air Force," Putin said at the ceremony of receiving credentials from the ambassadors of foreign states
According to the Russian leader, what happened in the skies over Syria two days ago is contrary to common sense and international law.
"The plane was shot down in Syrian territory," Putin said.
Read alsoPutin calls Turkey "accomplices of terrorists" after Russian jet shot down"At this, we have heard neither a clear apology from the Turkey's top political level, nor the offers for compensation of damage, nor promises to punish the perpetrators for the crime committed," said Putin.
The Russian president said, he had the impression that the Turkish government deliberately drove the Russian-Turkish relations to a standstill.
"We regret this," said Putin.
As UNIAN reported earlier, the Turkish Air Force took down a Russian Su-24 bomber at the Syrian-Turkish border on November 24, after it violated the Turkish airspace.
Turkey claims that the SU-24 were repeatedly warned that they were violating the airspace, before the jet was shot down. The Turkish FOX TV released a recording on Novembr 25 with the air dispatcher's warning to the Russian pilots.
However, Russia insists there was no warning to the Russian Su-24 from the Turkish side.
If you see a spelling error on our site, select it and press Ctrl+Enter