Erdogan: Downing of Turkish jet with S-400 missile would mean aggression
08:45, 27 November 2015
World
The CNN reporter asked the Turkish President whether he saw the moving of the Russian S-400s into western Syria as a threat to Turkey and other coalition members who may be flying sorties in this region, and what the Turkey's actions will be in case a Turkish jet is shot down by S-400 missile.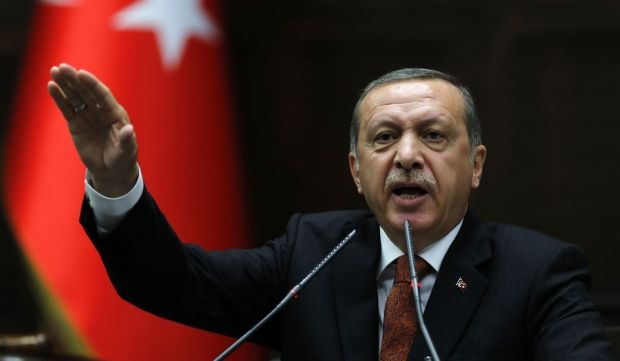 REUTERS
"This kind of an incident, which may happen, as you expressed, of course, will further push us to take measures which of course are not discussed, simply are taken," said Erdogan in an interview with CNN.
"These are things you simply make and do. And of course it would be an aggression against our rights of sovereignty and it's the natural right of the state to protect those rights," the Turkish president said.
"We do not want to see any escalation of the situation in the region," he added. "We do not want to become a party to that. But those who side with Syria and escalate the tension, I think, are the responsible parties to this."
According to Erdogan, in this case Turkey will be forced to "take measures that will certainly not be discussed."
Read alsoCNN: Erdogan says Turkey won't apologize for downing Russian warplaneAs UNIAN reported earlier, Erdogan vowed that Turkey would continue to take down aircraft that violate the country's airspace.
As UNIAN reported earlier, on Wednesday, November 25, Russian Defense Minister Sergei Shoigu said that Russia woulddeploy S-400 surface-to-air missile systems in its air Hmeymim airbase in Syria.
On Thursday, November 26, Russian media reported that the S-400s were already deployed in Syria.
S-400s (or SA-21 "Growler") have a maximum range of 400 km and are able to shoot down a plane at an altitude of 27 kilometers - more than twice the cruising altitude of passenger aircraft.
The range covers a large part of Syria, southern Turkey, Cyprus, the eastern Mediterranean and Israel.
If you see a spelling error on our site, select it and press Ctrl+Enter