Medvedev: Ankara holds strange position, refusing to apologize for plane
15:45, 30 November 2015
World
The Turkish leadership continues to hold a strange position, refusing to apologize for the downing of a Russian combat plane, Russian Prime Minister Dmitry Medvedev said at a meeting with vice-premiers on Monday, according to TASS.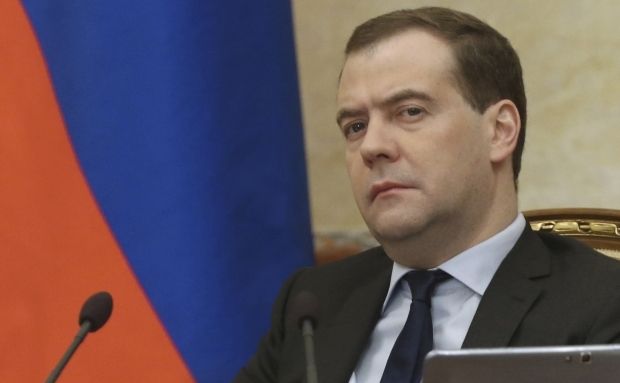 REUTERS
"Unfortunately, the Turkish leaders are holding a very strange position. It has just been reported that the Turkish premier hopes that Russia will revise its response measures over the incident with the downed plane. And, at the same time, he has said that Turkey will never apologize for this incident. Comments are needleless," Medvedev said, TASS reports.
According to Medvedev, Russia's government may expand the list of commodities banned for importing to Russia, and impose other restrictive measures against Ankara.
"The measures that will be now included in the draft decree are only the first step. We'll see how things will unfold. Within the Presidential decree we can expand the list of commodities to be banned, expand the group of persons to be banned for entering Russia, and take other measures aimed at limiting and winding cooperation with the Turkish Republic," Medvedev said, adding that "this all will be done if needed."
Medvedev also called for "avoiding problems and imbalances" amid implementation of the Presidential decree and the government resolution and to make corrections if needed, adding that "this is a tough process, which needs to be managed."
"Finally, we hope the measures will have the intended effect. Those measures are not aimed against Turkish citizens but will only further address problems outlined in the Presidential decree," Medvedev said.
The official however stressed that Russia's restrictive measures against Turkey are a forced response to acts of Ankara.
"I would like to make a point once again these are our counter and forced measures we undertake exclusively for the purpose of ensuring security of our people and as a response to Turkey's aggressive behavior. They became the response exactly to such hostile acts," Medvedev said. Restrictive measures cover a significant portion of economic relations between our countries, he said.
"Therefore we will act pragmatically, so that decisions taken by us are highly sensitive for the Turkish side, with minimal exposure to our economic interests," the prime minister said. "This is an issue of management how to combine that," he added.
If you see a spelling error on our site, select it and press Ctrl+Enter