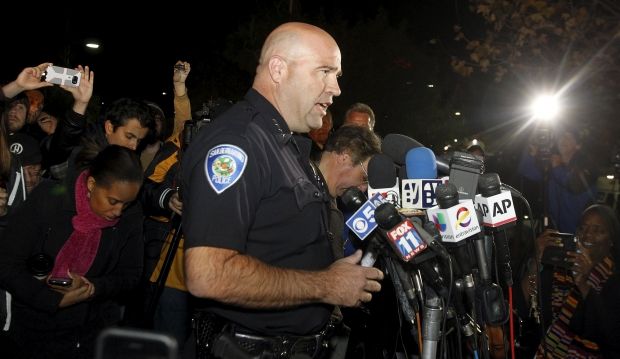 REUTERS
They were married and the parents of a 6-month-old daughter, according to Farook's brother-in-law, Farhan Khan, the newspaper said.
Farook was born in the United States, Chief Burguan said, and he had been employed with the county for five years as a health inspector.
He had been at a holiday party on Wednesday and left "angry," amid a dispute, Chief Burguan said. He and his wife then returned with explosive devices and guns, and wearing tactical gear.
Law enforcement officials initially said there may have been as many as three assailants, but Chief Burguan said they were "reasonably" confident that Farook and Malik were the only attackers.
Both were armed: The police recovered two 223-caliber assault rifles and two semiautomatic handguns.
The police chief added that explosive devices were found at the scene of the shooting, the Inland Regional Center. They were later detonated by the authorities.
Chief Burguan said the police still had not determined a motive for the shooting. Investigators were interviewing several of the couple's relatives.
As reported earlier, at least 14 people were killed and at least 17 others were wounded in shooting at a service center for people with disabilities in San Bernardino, California, on December 2.
REUTERS