TASS: Downed Russian bomber's data recorder severely damaged
21:26, 21 December 2015
World
Deputy chief of the Russian Air Force's flight safety service Sergey Bainetov says that specialists examining the flight data recorder of Russia's Sukhoi-24M fighter-bomber, downed over Syria on November 24, have found out that 13 of the 16 microchips are hopelessly destroyed and others are damaged, according to Russian news agency TASS.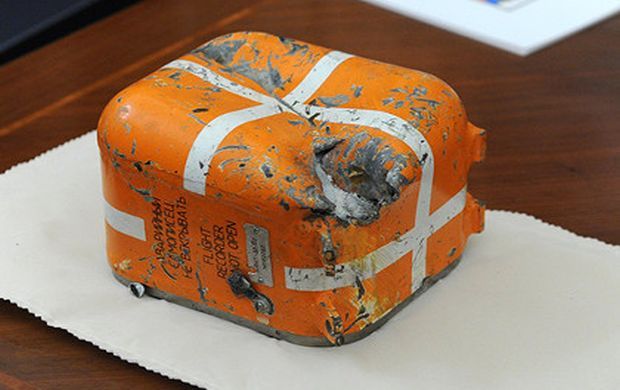 Experts claim Su-24's black box data can't be restored by usual methods / Photo from Russia's Defense Ministry
One microchip from the Sukhoi-24 black box's memory module may be in a condition good enough for trying to retrieve data from it, Bainetov said, TASS wrote.
"Microchip BDD5 may still be operational, because X-ray examination has identified no internal physical damage," he added.
According to the official, the black box data can't be restored by usual methods.
"The existing methods with the use of the organic equipment of the Izmeritel factory and the Interstate Aviation Committee can't be used at present to restore and read the flight data from microchips due to their internal damage," he said.
"The work with the memory unit on December 19 started with its visual inspection. It was established that the memory unit case has penetrating damage up to the internal container. The container's electrical cord is broken off," he said.
This was the result of the bomber hitting the ground after it was shot down by a missile, he said.
According to TASS, Bainetov also noted that international observers present during the study of the flight data recorder of the Russian bomber praised the transparency of the effort and asked no questions.
He said the observers monitoring the study included representatives of China, the United Kingdom and also the United States.
The Russian Su-24M all-weather bomber was on anti-terrorism mission in Syria on November 24, when it was shot down by a Turkish F-16 fighter jet. Ankara claimed it downed the Russian warplane after it had violated Turkey's airspace, while the Russian defense ministry says the bomber was in the airspace over Syria at the time of the attack. Both pilots of the downed warplane ejected safely after they were hit by an air-to-air missile, but the commander was killed in a militants' gunfire from the ground as he was parachuting.
The Su-24's flight recorder was demonstrated by Russian Defense Minister Sergei Shoigu to President Vladimir Putin on December 8. It was unsealed at the Interstate Aviation Committee in the presence of journalists and international observers on December 18. The flight recorder was then found to be damaged.
If you see a spelling error on our site, select it and press Ctrl+Enter