Reuters: Syria ceasefire plan struggles to define a 'terrorist'
15:10, 31 December 2015
World
A U.N. plan to suspend Syria's nearly five-year-old civil war calls for listing which militant groups may be fought despite an eventual ceasefire, one of the toughest issues vexing diplomats trying to end the conflict, according to Reuters.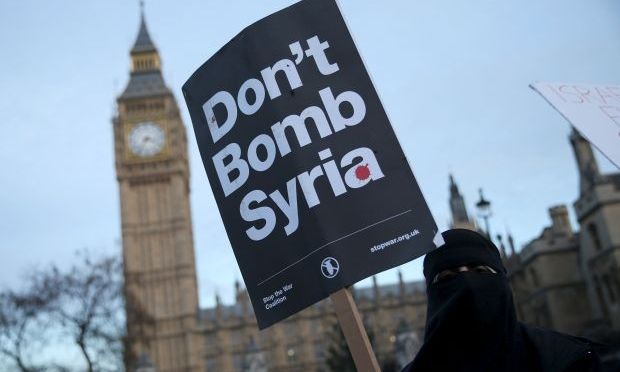 REUTERS
A U.N. draft discussion paper obtained by Reuters includes eight "framework principles" to be embraced by all countries and rebel groups that sign on to a ceasefire. The ceasefire plan also lists issues still to be negotiated, including defining "those terrorist organizations against whom combat is allowed," Reuters wrote.
The paper's authenticity was confirmed by two diplomats who spoke on condition of anonymity. The diplomats stressed that the document was a draft, originally prepared by the United Nations, and they said multiple versions of the draft have been passed back and forth among U.S., U.N. and other diplomats.
The ceasefire idea, endorsed by the U.N. Security Council on Dec. 18 at the urging of major powers and regional players that include the United States, Russia, Iran and Turkey, would exclude militant groups such as Islamic State, also known as ISIS, and al Qaeda-affiliated Nusra Front.
Diplomats say the result could be a messy, partial ceasefire in which government and acceptable rebel forces stop shooting at one another but still go after Islamic State militants and other groups branded as terrorist.
With Nusra Front fighters scattered across northern Syria rather than concentrated in any one place, attacks on them could harm civilians as well as groups who signed on to any ceasefire, diplomats and analysts said.
Identifying the groups still subject to attack is a diplomatic task delegated to Jordan's government.
In a tangible sign of the difficulty, the Jaysh al Islam militant group has agreed to take part in the peace talks, yet its leader was killed on Friday in an air strike that rebel sources say was carried out by Russian aircraft.
Staffan de Mistura, the third U.N. envoy tasked with ending a civil war that has killed at least 250,000 people and driven millions from their homes, has taken the lead in laying out the possible dimensions of a ceasefire, diplomats said.
De Mistura has said he hopes to open talks between the Syrian President Bashar al-Assad's government and opposition groups in Geneva on January 25.
Those talks will focus on trying to get the two sides to agree on a political transition for Syria.
Separate talks are underway about the shape of a ceasefire and the draft document obtained by Reuters addresses this.
The document lays out three possible ceasefire models that could vary from one region of Syria to another:
- A ceasefire that excludes "undesired groups," presumably those deemed to be "terrorist."
- A ceasefire open to all who embrace the framework principles.
- A limited ceasefire that would reduce violence by barring the use of certain weapons.
Diplomats and analysts stressed the challenge of getting the Assad government and the opposition and rebel groups into talks, let alone to lay down their arms.
If you see a spelling error on our site, select it and press Ctrl+Enter