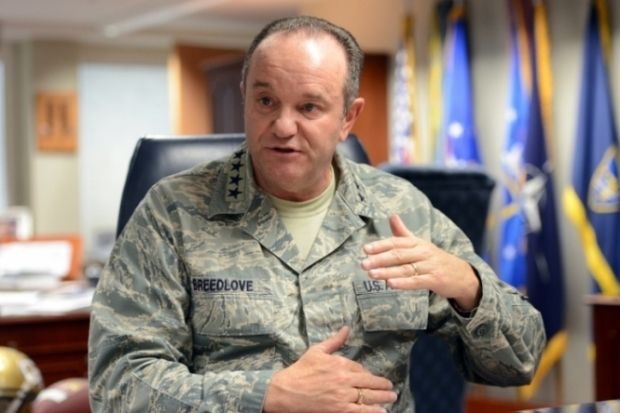 Breedlove has advocated more U.S. service members and more capabilities in Europe / Photo from stripes.com
"Many people ask me, 'What is Putin thinking?' or 'What do you think he's thinking?' I'm not sure what he's thinking, but I can look at what he's doing and derive from that what we should be thinking about on our side," he told reporters traveling with Marine Corps Gen. Joseph F. Dunford Jr., the chairman of the Joint Chiefs of Staff.
"What I would offer is that if you look at Russia's actions all the way back to '08 – in Georgia, in Nagorno-Karabakh, in Crimea, in the Donbas, and now down in Syria – we see what most call a revanchist Russia that has put force back on the table as an instrument of national power to meet their objectives," the general said.
This means there has to be changes in the way U.S. military forces operate in Europe, he added, noting that for 20 years, U.S. military decisions were guided by the effort to make Russia a partner.
"Across that time … we have changed our force structure, we have changed our [intelligence, surveillance and reconnaissance] allocations, we've changed our analytical allocations, [and] we've downsized the forces in all the media here in Europe," he said.
Now, Breedlove said, U.S. military officials look at Russian capabilities and capacity and have to adjust.
Breedlove has advocated more U.S. service members and more capabilities in Europe, and that is beginning to happen. A fourth destroyer has arrived in Spain, for example, and the Army is rotating a brigade-sized unit to Europe, he said.
But it is more than simply building up numbers, he added. For 13 years, he said, Eucom was focused on training other nations to join the counterinsurgency fight in Afghanistan.
"We are really good at counterinsurgency targeting," Breedlove said. "It's been a long time since we've done an air campaign the size of Iraq 1 or Iraq 2, or even in the opening days of Afghanistan. We need to get back to those high-end skills to ensure we have the depth of bench for that fight.
"As Afghanistan drew down, we were prescient," he continued. "We decided … that we needed to train to high-end Article 5 capabilities. That was our plan, even before Crimea." Article 5 of the North Atlantic Treaty states that an attack on one NATO ally will be considered an attack on all allies.
Russia's actions validate the decision to redevelop high-end capability, the general said. "Now every soldier, sailor, airman or Marine that comes to European Command will be focused on redeveloping that high-end kinetic fighting capability," he added.
All exercises and training will stress these capabilities, the general said, and Eucom also will exercise at division and corps level in the future.