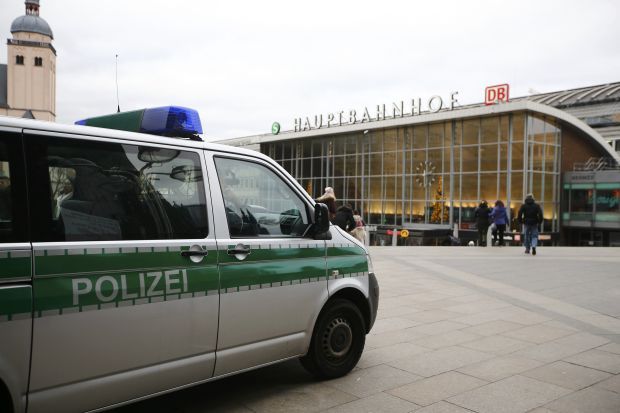 REUTERS
As the fallout from a spree of sexual assaults against women alleged to have been carried out by groups of Middle Eastern men spreads, German authorities are scrambling to come up with measures to beef up security and punish migrants convicted of serious offenses, Deutsche Welle reported.
The events in Cologne on New Year's Eve, in which groups of "North African and Arab" men reportedly robbed and sexually assaulted at least 120 women, is something that should never happen again, Interior Minister Thomas de Maiziere told German regional daily "Rheinische Post" on Friday.
Ahead of a high-level meeting of Chancellor Angela Merkel's Christian Democratic Union (CDU) party officials on Friday, de Maiziere said authorities would focus on "prevention, more video surveillance in public places where many people gather, police presence on the streets and tougher penalties" to avoid a repeat of the mass sexual assaults.
The Cologne events are rapidly turning into a political crisis for the CDU, with its open refugee policy coming under fire after 1.1 million refugees arrived last year - of which nearly 75% are from Syria, Iraq and Afghanistan.
Based on the first internal report by the Cologne police, multiple media outlets have suggested a significant number of suspects were asylum seekers.
Quoting police sources, Cologne daily "Koelner Stadt-Anzeiger" said the officer leading the team at the station wanted the report to include mention of Syrians and asylum seekers, but the senior officer writing the police report decided not to, saying it would be "politically awkward."
As the investigation into sexual assaults in Cologne progresses, politicians are already trying to get out in front of any public backlash against any new asylum seekers who may break the law.
De Maiziere said asylum seekers who commit serious crimes such as sexual assault could even be expelled from Germany. According to an outline government proposal seen by Reuters ahead of the CDU conference, asylum seekers and refugees could be put on probation or expelled.
The document calls for hurdles to deport and remove convicted foreigners to be lowered.
Meanwhile, German police confirmed media reports on Friday that Cologne police had arrested two more suspects overnight in connection with the string of sexual assaults carried out in the western German city on New Year's Eve, Deutsche Welle reported.
According to broadcaster WDR, the two men were of a foreign background and had in their possession cell phone video footage that showed rioting and the harassment of women.
Police also found a piece of paper with translations of phrases like "nice breasts," "I'll kill you," and "I want to have sex with you," translated from Arabic into German, wrote the broadcaster.
Investigators later confirmed they had a 16-year-old and 23-year-old from Morocco and Tunisia in custody, but they did not comment on the alleged incriminating translations.
The overnight arrests bring the total amount of suspects in custody to 21, and Friday saw the amount of criminal complaints rise to 170 – 117 of them for sexual crimes.