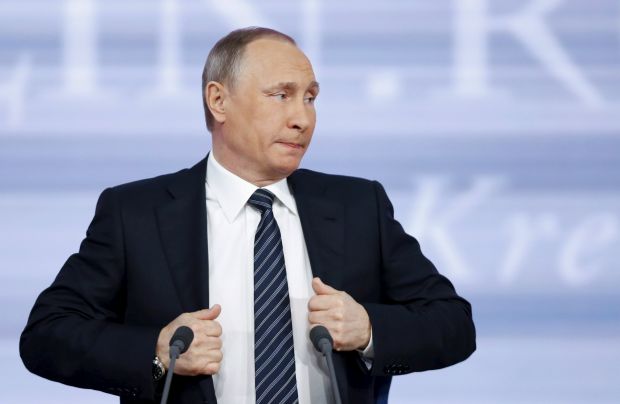 REUTERS
"You know, the Russian people feel in their hearts and understand in their minds very well what is happening," Putin said, TASS wrote.
"Napoleon once said that justice is the embodiment of God on earth. In this sense, the reunification of Crimea with Russia was a just decision," Putin believes.
In his words, the Western partners' reaction to the so-called reunification was "wrong and it was not aimed at supporting Ukraine but at suppressing the growth of Russia's capabilities."
"I believe that this should not be done and this is the main mistake; on the contrary, we need to use each other's capabilities for mutual growth, to address common issues together," Putin said adding that the Western choice of imposing sanctions against Russia was "a silly and harmful decision."
The Russian president admitted that the sanctions bore a negative impact on the Russian economy, particularly in the sphere of restrictions for the country and its companies to work on foreign financial markets.
"As to the worst harm inflicted by today's situation, first of all on our economy, it is the harm caused by the falling prices on our traditional export goods," Putin said speaking about the drop of crude prices over the last year and a half.
However, according to him, "as strange as it may seem, some tendencies of positive nature also emerged" for Russia under the current difficulties.
"When oil prices are high, it is very difficult for us to resist spending oil revenues to cover current expenses," he said.
"I believe that our non-oil and gas deficit had risen to a very dangerous level. So now we are forced to lower it. And this is healthy…," he added.
According to Putin, "it is very difficult, I repeat, to resist spending oil and gas revenues to cover current expenses." "High oil revenues discourage development, especially in the high technology sectors," Putin said adding that the decrease in spending of oil and gas profits plays a revitalizing role for the country's economy.
The official translation of the interview into English is available on kremlin.ru.