Erdogan: Syrian bomber suspected as blast kills 10 in Istanbul tourist hub
15:45, 12 January 2016
World
A Syrian suicide bomber is thought to be responsible for an attack which killed at least ten people including foreigners in the heart of Istanbul's historic Sultanahmet tourist district on Tuesday, Turkish President Tayyip Erdogan said, according to Reuters.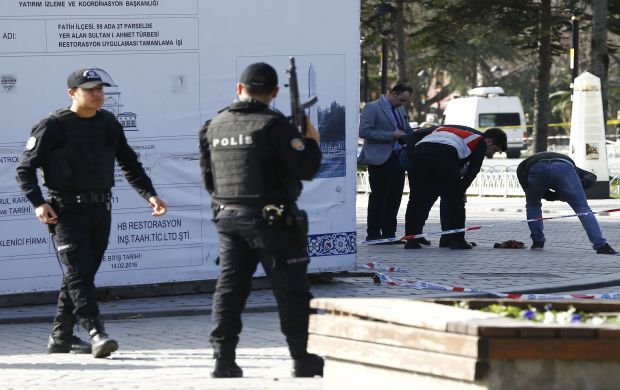 REUTERS
"I condemn the terror incident in Istanbul assessed to be an attack by a suicide bomber with Syrian origin. Unfortunately we have 10 dead including foreigners and Turkish nationals," Erdogan told a lunch for Turkish ambassadors in Ankara, in a speech broadcast live on television, Reuters wrote.
"This incident has once again showed that as a nation we should act as one heart, one body in the fight against terror. Turkey's determined and principled stance in the fight against terrorism will continue to the end," he said.
Turkey has become a target for Islamic State, with two bombings last year blamed on the radical Sunni Muslim group, in the town of Suruc near the Syrian border and in the capital Ankara, the latter killing more than 100 people.
Violence has also escalated in the mainly Kurdish southeast since a two-year ceasefire collapsed in July between the state and the Kurdistan Workers Party (PKK) militant group, which has been fighting for three decades for Kurdish autonomy.
The PKK has however generally avoided attacking civilian targets in urban centers outside the southeast in recent years.
Turkey also sees a threat from the PYD and YPG, Kurdish groups in Syria which are fighting Islamic State and with U.S. backing, but which Ankara says have close links to the PKK.
"For us, there is no difference between the PKK, PYD, YPG, DHKP-C… or whatever their abbreviation may be. One terrorist organization is no different than the other," Erdogan said, vowing that Turkey's military campaign against Kurdish militants in the southeast would continue.
"The first target of all terrorist organizations that operate in this region is Turkey, because Turkey fights all of them without discrimination and with the same determination."
As UNIAN reported earlier, several people were killed on Tuesday in an explosion in a district of Istanbul popular with tourists.
If you see a spelling error on our site, select it and press Ctrl+Enter