Moscow says possible non-UN tribunal on MH17 crash would be illegitimate
11:48, 15 January 2016
World
Creation of a tribunal on the Boeing-777 crash that occurred in Ukraine in the summer of 2014 while the investigation is still ongoing contradicts any common sense, Russian Foreign Ministry Spokesperson Maria Zakharova said on Thursday, according to Russian news agency TASS.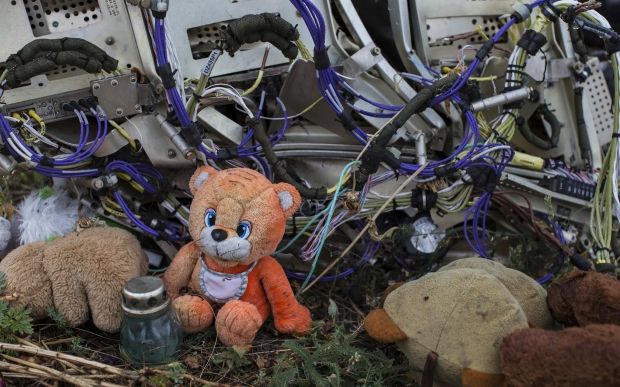 REUTERS
"Creation of any 'Boeing' tribunals while the investigation is still ongoing contradicts any common sense at least irrespective of a country, which is in question. Such an approach proves that someone has no desire to look into what happened," the Russian diplomat said, TASS wrote.
"There has been an attempt to immediately accuse those who were initially selected to be guilty. Lawful and legitimate tribunals are established by the United Nations. All other tribunals are illegitimate," Zakharova said.
"Russia's task is to shed the light on this tragedy; find any possible information and understand what happened," she added.
UNIAN's memo. Flight MH17 heading from Amsterdam to Kuala Lumpur was downed in Donetsk region on July 17, 2014. There is mounting evidence that the plane was shot down by a powerful Buk-M anti-aircraft missile system. All 298 people on board were killed. Most of the passengers, 194, were Dutch citizens, while 43 people, including all of the aircraft's crew, were citizens of Malaysia.
The plane crashed near Shakhtarsk in Donetsk region, in an area controlled by Russian-backed militants.
The bodies of the crash victims were transferred to the Netherlands for forensic medical examination and identification.
On July 24, 2014, Ukraine delegated the investigation of the aircraft crash to the Netherlands.
Malaysia tabled a draft resolution at the UN Security Council to set up an international tribunal to investigate the MH17 accident. An initiative to set up the tribunal had previously been put forth by Australia, Belgium, the Netherlands, and Ukraine.
Russia used its right to veto the resolution on the tribunal at a UN Security Council meeting on July 29, 2015.
After the voting on the tribunal, Minister of the Foreign Affairs of the Netherlands Bert Koenders announced that his country together with Malaysia, Australia, Belgium and Ukraine would continue searching mechanisms to make those who were guilty of the MH17 tragedy bear responsibility.
On October 13, 2015, the Dutch Safety Board announced that investigators had come to a conclusion that MH17 had been downed by a Russian surface-to-air Buk missile. The missile was launched from a 320km sq area, Tjibbe Joustra, Dutch Safety Board's chief, said while presenting the results of the investigation to the public at an airbase in the Netherlands. 
If you see a spelling error on our site, select it and press Ctrl+Enter