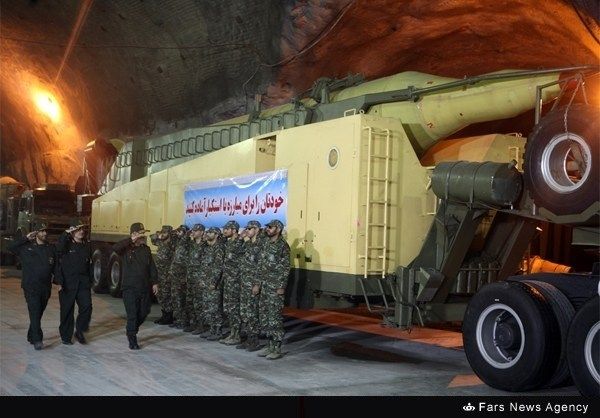 Iran's ballistic missile program poses a significant threat to regional and global security / Photo from farsnews
The announcement by the US Treasury, which affects companies in Hong Kong and the United Arab Emirates as well as Iranian individuals, came just hours after four Americans jailed in Iran flew out of the country as part of a highly sensitive prisoner swap, The Financial Times wrote.
The administration has come under heavy pressure in recent weeks from Republicans and some Democrats in Congress to impose some sort of penalty on Iran over two missile tests it conducted last year.
However, although the decision to add the new names to the sanctions list had been aired in advance, the timing could provide fodder to hardline critics of the nuclear deal in Iran who question the benefits of dealing directly with Washington.
"Iran's ballistic missile program poses a significant threat to regional and global security, and it will continue to be subject to international sanctions," said Adam Szubin, acting undersecretary for terrorism and financial intelligence at the US Treasury.
"We have consistently made clear that the United States will vigorously press sanctions against Iranian activities outside of the Joint Comprehensive Plan of Action [the nuclear deal] — including those related to Iran's support for terrorism, regional destabilisation, human rights abuses and ballistic missile program."
In a nationally televised press conference on Sunday, Hassan Rouhani, Iranian president, said that any breach by the US of the nuclear agreement by imposing new sanctions would result in a response by Iran, although he gave no further details.
"And if they do it [imposing sanctions] in other areas [non-nuclear], they will receive Iran's reciprocal response," he told reporters. "But the conditions in the future are not the conditions by which previous sanctions can be reimposed . . . [even though] we may face some difficulties."
As a result of the nuclear agreement with Iran, which was fully implemented at the weekend, the US has lifted a series of sanctions on its economy that were connected to Iran's nuclear programme. A senior US official said on Saturday that 400 Iranian names had been taken off the sanctions list as a result of the nuclear agreement.
According to US officials, Iran conducted ballistic missile tests in October and November which were in violation of UN resolutions. The 11 new designations to the sanctions list have all been accused of being involved in procurement of material for Iran's ballistic missile programme.
Companies and individuals on the sanctions list have their US assets frozen and are barred from doing business with Americans.
The seven individuals are all Iranian except for Chen Mingfu, a Chinese citizen, whose Hong-Kong based company Anhui Land Group was also listed. Two companies based in Dubai, Candid General Trading and Mabrooka Trading, were designated.