TASS: Death toll in fire at Moscow sewing factory rises to 12 — source
17:11, 31 January 2016
World
Updated
The body of another person killed in a fire in the building of a sewing factory in eastern Moscow has been found, bringing the total death toll to 12, according to Russian news agency TASS.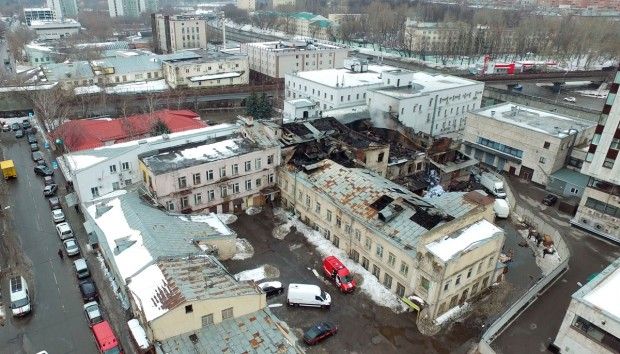 The fire at Moscow sewing factory has reportedly been caused by arson / Photo from Alexander Mukhin
"The Emergencies Ministry's staff continues clearing the debris at the fire scene at the sewing factory on Stromynka Street. During the works, another body of a person who died was found. A total of 12 dead people have been found in the fire," a source in the city law enforcement agencies told TASS on Sunday.
Later reports said there was a child among the 12 dead people. According to preliminary data, the victims were from Central Asian states.
A senior aide to the head of the Moscow department of the Investigative Committee reported later that a man had been found alive in a room of the factory. He will be examined by doctors and taken to the investigative department for questioning.
The fire erupted in an old building on Moscow's Stromynka Street accommodating a sewing shop late in the evening on Saturday.
It was localized at midnight and extinguished at 00:55 Moscow time (9.55 p.m. GMT) on Sunday.
About 3,000 square meters have been damaged by fire, with the roof collapsing on the area of 500 square meters.
Criminal proceedings have been launched over deliberate destruction of property and death of people in the fire, a spokesperson for the Moscow Department of Russia's Investigative Committee Yulia Ivanova said earlier.
A source in the law enforcement agencies told TASS that, according to preliminary data, the fire had been caused by arson.
If you see a spelling error on our site, select it and press Ctrl+Enter