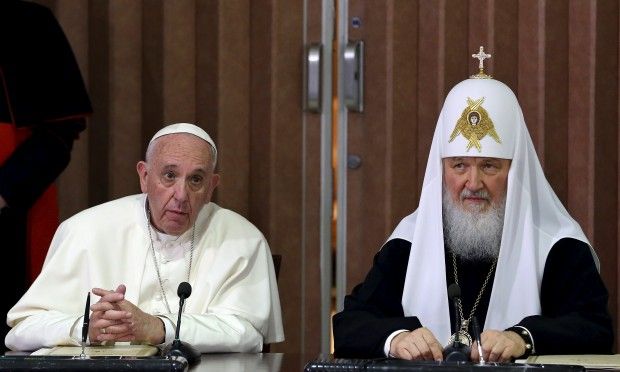 REUTERS
The declaration calls for peace in Syria, Iraq and Ukraine and urges Europe to "maintain its faithfulness to its Christian roots."
"It is our hope that our meeting may also contribute to reconciliation wherever tensions exist between Greek Catholics and Orthodox. It is today clear that the past method of 'uniatism', understood as the union of one community to the other, separating it from its Church, is not the way to re-establish unity. Nonetheless, the ecclesial communities which emerged in these historical circumstances have the right to exist and to undertake all that is necessary to meet the spiritual needs of their faithful, while seeking to live in peace with their neighbors. Orthodox and Greek Catholics are in need of reconciliation and of mutually acceptable forms of co–existence!" the document reads.
With regard to the war in Ukraine, the two religious leaders invited all the parties involved in the conflict to prudence, to social solidarity and to action aimed at constructing peace.
"We deplore the hostility in Ukraine that has already caused many victims, inflicted innumerable wounds on peaceful inhabitants and thrown society into a deep economic and humanitarian crisis."
"We invite our Churches in Ukraine to work towards social harmony, to refrain from taking part in the confrontation, and to not support any further development of the conflict," as stated in the joint declaration.
As reported earlier, the meeting between the Moscow Patriarch and the Pope of Rome took place in Havana International Airport on Friday. The meeting has been on the agenda of the inter-church relations for about 20 years.