UN: 50 civilian deaths in airstrikes on hospitals, schools in Syria on Monday
22:53, 15 February 2016
World
U.N. Secretary-General Ban Ki-moon says close to 50 civilians have been killed and many more wounded in missile attacks on at least five medical facilities and two schools in northern Syria, according to The Associated Press (AP).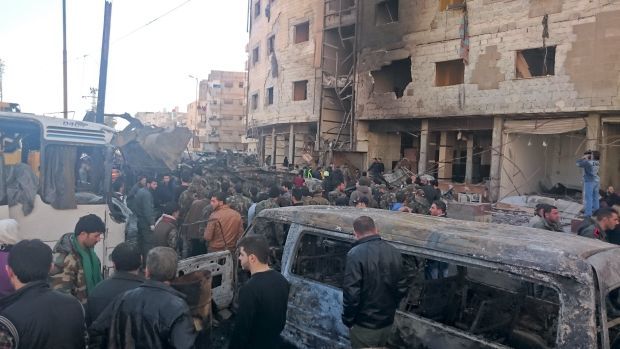 REUTERS
U.N. deputy spokesman Farhan Haq said Monday that victims of the attacks launched on February 15 included children, The AP said.
He quotes the secretary-general as calling the attacks "blatant violations of international laws" that "are further degrading an already devastated health care system and preventing access to education in Syria."
Haq quoted Ban as saying the attacks "cast a shadow on commitments" made by nations seeking to end the Syrian conflict at a conference in Munich on February 11, which included a cessation of hostilities within a week and an end to attacks on civilians.
According to Reuters, residents in two towns attacked on Monday – Azaz and Marat Numan – blamed Russian strikes, saying the planes deployed were more numerous and the munitions more powerful than the Syrian military typically used.
Rescue workers and rights groups say Russian bombing has killed scores of civilians at market places, hospitals, schools and residential areas in Syria. Western countries also say Russia has been attacking mostly Western-backed insurgent groups.
But Moscow has said it is targeting "terrorist groups" and dismissed any suggestion it has killed civilians since beginning its air campaign in support of President Bashar al-Assad's forces in September.
The town of Azaz has been the scene of fierce fighting as Kurdish anti-government forces advance from the west. They have reached the edge of town, only a few kilometers away from the main Bab al Salam border crossing. The Syrian army is advancing from the south.
Both the Kurds and the army want to wrest control of that stretch of border with Turkey from the insurgents that currently hold Azaz.
Russian bombing raids on rebel fighters are helping the Syrian army to advance toward Aleppo, the country's largest city and commercial center before the conflict. If the army takes the city, it will be the Syrian government's biggest victory of the war.
If you see a spelling error on our site, select it and press Ctrl+Enter