Russian politician calls for deployment of special forces in Kyiv
17:30, 08 March 2016
World
Odious leader of Russia's Liberal Democratic Party Vladimir Zhirinovsky considers appropriate recalling the Russian ambassador to Moscow and "deploy a company of special forces in Kyiv" to protect the embassy.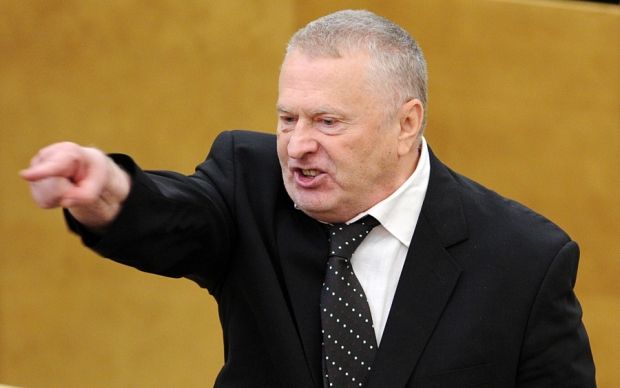 Zhirinovsky / xsport.ua
Zhirinovsky urged the Kremlin for a "tough response" to the situation around the Russian Embassy in Ukraine, according to Ukrainska Pravda with reference to the Russian official's comment on the official website of his party.
"In connection with the impossibility of normal operation of the Russian Embassy in Ukraine we consider it appropriate to dramatically reduce our staff in Ukraine and recall the ambassador to Moscow, while deploying in Kyiv a company of special forces to protect the embassy," reads the statement.
"We must not allow the violence that takes place in Kyiv these days. We need strict measures to protect the diplomats," Zhirinovsky said.
As reported earlier, on Sunday, March 6, a rally was held near the Russian embassy in Kyiv. The protesters, who were demanding the release from the Russian prison of the Ukrainian female pilot and MP Nadia Savchenko, threw eggs at the building of the embassy.
Read alsoRussian Embassy in Kyiv pelted with eggs and brilliant greenAccording to the press attache Oleg Grishin, the Russian Embassy sent March 6 a note of protest to the Ukrainian Foreign Ministry because of the "night attack, several cars were smashed, the embassy was pelted with flares and smoke bombs."
Another rally was held March 7 near the building of the Russian Embassy in Ukraine with demands to release Nadia Savchenko.
If you see a spelling error on our site, select it and press Ctrl+Enter