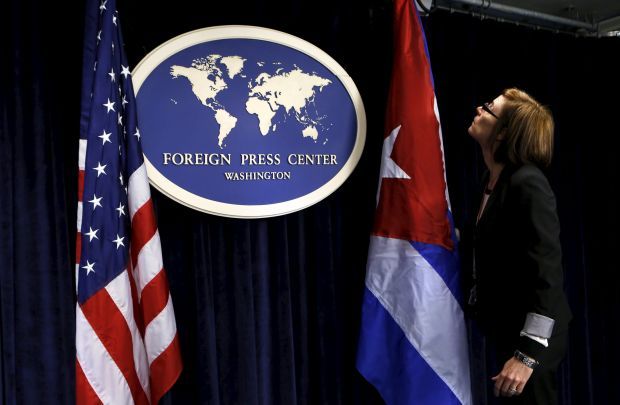 REUTERS
Previewing Obama's three-day trip, U.S. deputy national security adviser Ben Rhodes expressed hope that Tuesday's scheduled "speech to the Cuban people" would be broadcast throughout the island and said Cuba's Communist government had not raised any objections to doing so, Reuters reports.
But Rhodes could not confirm whether the event, which will take place at Havana's legendary Gran Teatro, would actually be carried by Cuba's state-run media, saying, "We'll see how that transpires."
Obama, who will be the first U.S. president to visit Cuba in 88 years, arrives on Sunday and holds talks on Monday with Cuban President Raul Castro, followed by what Rhodes described as a joint "press event" and a state dinner.
Obama's meeting with Cuban dissidents on Tuesday will include prominent activists of his own choosing, Rhodes said. Despite Cuban leaders' view of such meetings as interference in the island's internal affairs, Rhodes said there was no reason to believe the government would block any invitees from participating.
Obama will arrive just days after unveiling sweeping new measures to make it far easier for Americans to visit Cuba and for the island's government to conduct international trade.
Read alsoU.S.-Cuba commercial flights to resumeThe Obama administration says that engagement will benefit the Cuban people and open up the island to U.S. business – though Cuban leaders have been slow to make economic reforms. At the same time, the decades-old U.S. trade embargo against Cuba remains, with little chance Congress will lift it anytime soon.
"We very much want to make the process of normalization irreversible," Rhodes told reporters on a conference call.
Read alsoCuba textbooks show annexed Crimea simultaneously as part of Ukraine and RussiaObama's aides hope that getting more U.S companies invested in Cuba and loosening up travel to the island will make it almost impossible for traditionally pro-business Republicans to roll back the thaw if they win the White House in November.