Nemtsov's killers reportedly revealed due to accidental call
12:00, 17 March 2016
World
Anzor Gubashev, one of the alleged killers of Russian opposition leader Boris Nemtsov, unwittingly assisted the investigators in identification and arrest of a criminal group. After committing the crime, he made an accidental call using an illegally purchased SIM card, thus revealing himself and other accomplices, Russian newspaper Kommersant reported, with reference to a source close to the investigation.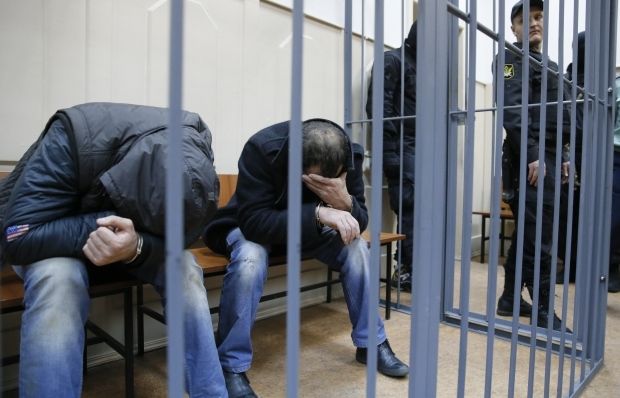 REUTERS
It is noted that the very next day after the murder of Boris Nemtsov, the investigation had at its disposal a list of all mobile phone numbers and data on SIM cards active near the crime scene.
The investigators focused only on a few suspicious SIM cards and mobile phones. The numbers were active before the murder – up to the moment when Nemtsov was shot. After the shooting, all communication was dropped.
Read alsoEP President comments on anniversary of Nemtsov murder and Crimean annexationHowever, it was impossible to identify the owners of these numbers due to the fact that the SIM cards were purchased illegally.
However, two days after the murder of Boris Nemtsov, one of the disabled SIM cards suddenly appeared in the network just for a few seconds – the owner made a very short call to Ingushetia.
The investigators found out that another SIM card had previously worked in the same mobile phone – officially registered on Ingushetia resident Anzor Gubashev, who lived in Moscow. His links, telephone contacts and data from surveillance cameras allowed police to quickly identify four other alleged accomplices in the murder and detain them almost simultaneously, exactly one week after the crime.
Read alsoU.S. Intelligence to dig into political assassinations in Russia, export of "Russian Spring"As UNIAN reported earlier, Nemtsov, co-chairman of the RPR-Parnas political party, was shot dead in downtown Moscow on February 27, 2015. Five men, including suspected perpetrator Zaur Dadayev, have been formally charged in the murder case. They do not admit their guilt.
In November 2015, a Moscow court arrested in absentia a suspected organizer of Nemtsov's murder, Ruslan Muhudinov, an officer of Chechnya's Sever battalion. A criminal case against him and other unidentified persons is investigated separately.
If you see a spelling error on our site, select it and press Ctrl+Enter