VOA: Obama's speech to Cuban people will cap historic visit
15:09, 20 March 2016
World
As President Barack Obama flies to Cuba Sunday, he is embarking on a historic trip, with the two nations moving to normalize their relations 55 years after they broke off ties, according to Voice of America (VOA).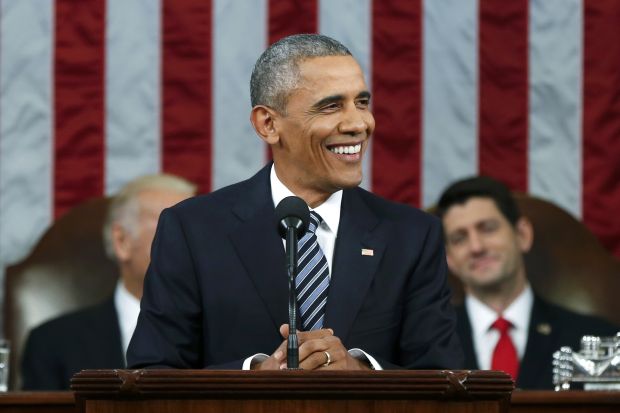 REUTERS
Obama, the first sitting U.S. president to travel to Cuba in almost 90 years, will cap his visit with a direct address to the Cuban people outlining his vision for the future U.S.-Cuba relationship, VOA wrote.
The White House said Obama's three-day visit, and his televised speech in Havana on Tuesday, represents a new beginning in the relationship between the former Cold War enemies, expanding on the formal restoration of their diplomatic ties eight months ago.
"Diplomacy, including having the courage to turn a page on the failed policies of the past, is how we've begun a new chapter of engagement with the people of Cuba," Obama said during an appearance at the U.S. State Department several days before his departure.
Signature foreign policy
Obama has positioned the re-establishment of relations with Cuba as one of the signature foreign policy achievements of his administration, arguing the decades-old U.S. policy of isolating Cuba had failed.
"The old approach – trying to isolate Cuba, for more than 50 years – clearly didn't work," Susan Rice, the president's national security advisor, said Thursday. "We believe that engagement, including greater trade, travel and ties between Americans and Cubans, is the best way to help create opportunity and spur progress for the Cuban people."
Obama and the first family are to visit cultural sites in Old Havana in the first hours after they arrive in Cuba late Sunday afternoon.
On Monday, he holds talks Cuban President Raul Castro, then meets with Cuban entrepreneurs to discuss business ties between the U.S. and Cuba. A state dinner at the Revolutionary Palace is scheduled for Monday evening.
Obama's speech to the Cuban people, the highlight of his trip, will be an opportunity to look back on the two countries' complicated history, Ben Rhodes, deputy national security advisor, told reporters in an advance briefing.
Speech to lay out vision
The president's address on Tuesday morning will "lay out his vision for how the United States and Cubans can work together, to how the Cuban people can pursue a better life," Rhodes said.
Obama also plans to meet with members of Cuban civil society, including human rights activists, despite objections from the government in Havana.
The White House said the list of people invited to meet with the president during his visit was "non-negotiable."
The Cuban government recently released some political prisoners and has taken small steps to open up Internet access. But a 2015 Human Rights Watch report found the Cuban government "continues to rely on arbitrary detention to harass and intimidate individuals who exercise their fundamental rights."
The report found detentions have increased since the diplomatic thaw began, with arrests increasing from 2,900 to 7,188 in the first full year after the administration announced the resumption of relations. The thaw in relations could be an opportunity for the Cuban government to look at its internal laws on censorship, Internet freedom and freedom of assembly.
Continuing concerns about Cuba's human rights abuses have prompted some Republicans on Capitol Hill to strongly criticize the Obama trip.
Castros
Speaking of Cuban President Raul Castro and his brother, Cuba's revolutionary hero Fidel Castro, House Speaker Paul Ryan said Friday, "This is a regime that provides safe harbor to terrorists and fugitives."
Ryan said he doubts whether Obama will adequately bring up the need for reforms in Cuba. He also reminded reporters that despite Obama's attempts to announce new commercial deals, the U.S. trade embargo with Cuba is "still intact and enforceable," almost 60 years after it went into effect.
House Foreign Affairs Committee Chairman Ed Royce echoed those concerns in a statement declaring any easing of economic sanctions "will further prop up a communist regime in Cuba that has a long record of brutal human rights abuses."
Only a majority vote by Congress can lift the U.S. embargo on trade with Cuba, and such a move is highly unlikely while Republicans hold majority control of both the House of Representatives and the Senate. However, there have been signs that some lawmakers may be receptive to the president's policies.
Five Republican lawmakers are traveling to Cuba with Obama, and at least 15 Senate Republicans have publicly backed a loosening of restrictions on Cuban travel and trade.
Senator Jeff Flake, a member of the presidential party in Cuba, told VOA: "It's always bothered me that, as Republicans, we talk about engagement and travel and commerce as something that will nudge countries toward democracy. But with Cuba we tend to say, 'No, no, it won't work there.' But it will work. It is working."
Push to make changes
Analysts say the presidential visit may help push the Cuban government to make changes.
"The Cuban people need to be in the driver's seat for this thing to work, and the Cuban people are participating more freely in their economy," said Marc Hanson of the Washington Office of Latin America, a human rights advocacy group. "They need to be able to participate in their politics as well."
The success of the president's visit depends largely on making the opening with Cuba irreversible, said William LeoGrande, an expert on Latin America and former dean of American University's School of Public Affairs.
While the president's visit will mark a key turning point in the U.S.-Cuba relationship, it will be just the start of a long process of recovery for the nation after decades of isolation, Hanson said.
"Reforms with Cuba will help create a relationship with Cuba where the Cuban people get to play a larger role in their own destiny and the Cuban government is willing to open up more space for people to do things," he added.
The White House has just announced it is easing restrictions on travel and trade with Cuba.
The regulatory changes allow for "people-to-people" visits to Cuba, eliminate a ban on Cuban financial transactions going through U.S. banks and allow Cuban citizens to earn salaries in the United States.
First lady Michele Obama will meet with female Cuban students during her time in Havana and the entire first family will attend a baseball game before they leave late Tuesday for a three-day visit to Argentina.
If you see a spelling error on our site, select it and press Ctrl+Enter