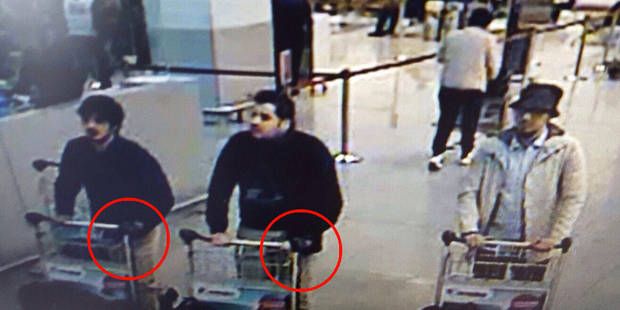 Photo from Derniere Heure
The RTBF broadcaster said the brothers were known to police and had criminal records. It is believed at least one was among three suspects seen in a CCTV image at Zaventem airport, the BBC wrote.
The broadcaster said that Khalid el-Bakraoui had used a false name to rent the flat in the Forest area of the Belgian capital where police killed a gunman in a shootout last week.
It was during that raid that police found a fingerprint of Salah Abdeslam, the main suspect in the Paris terror attacks of November 13.
He was arrested in a raid in Brussels last Friday and is due to appear before a pre-trial court on Wednesday.
Belgian newspaper La Derniere Heure said Khalid el-Bakraoui was being sought for terrorist activities while Ibrahim was reportedly on the run after a sentence for other criminal activity.
It is not known if both of the brothers are in the CCTV image handed out by police of the three men at the airport.
Some Belgian media say that one of the brothers may have carried out the metro attack.
La Derniere Heure also said that the man wearing the hat in the airport CCTV image is Najim Laachraoui.
Laachraoui was named earlier in the week by police as a wanted accomplice of Abdeslam.
Twin explosions at the airport and another at a metro station on Tuesday left about 34 dead and 250 wounded.
Belgium is observing three days of national mourning.
So-called Islamic State (IS) has said it was behind the attacks and warned that more would follow.