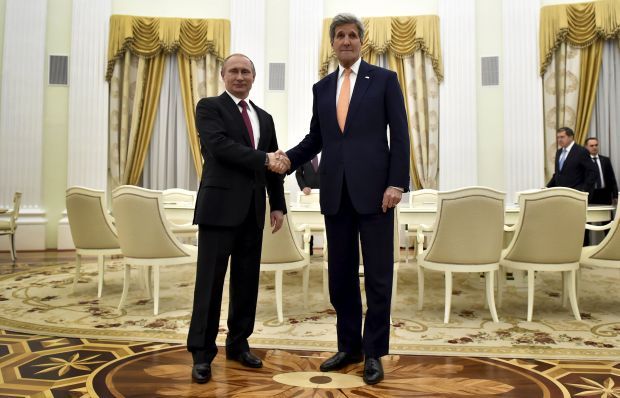 REUTERS
"On the one hand, it's quite a democratic way of conduct, but on the other hand, I thought probably the situation in the United States is not that good and there is no one to assist the secretary of state in carrying his luggage," said Putin, whose own country's economy has been hurting due to oil low prices, POLITICO foreign affairs correspondent Nahal Toosi wrote in her article titled "Putin teases Kerry for carrying his own luggage," published on Thursday, March 24.
"I hear your economy is okay," Putin continued, while alongside Kerry at the Kremlin. "I mean, there are no — there is no slowdown. Probably then I thought there was something in that case of your — in the briefcase of yours you couldn't trust anyone else with. Probably you brought some money with you to haggle on key matters."
Kerry is in Russia to discuss a range of issues with Putin, including ways to push toward a long-term political solution in Syria now that a cease-fire, though fragile, has held for nearly a month.
The secretary of state took Putin's ribbing in stride.
"When we have a private moment, I'll show you what's in my briefcase," Kerry said. "And I think you'll be surprised – pleasantly."