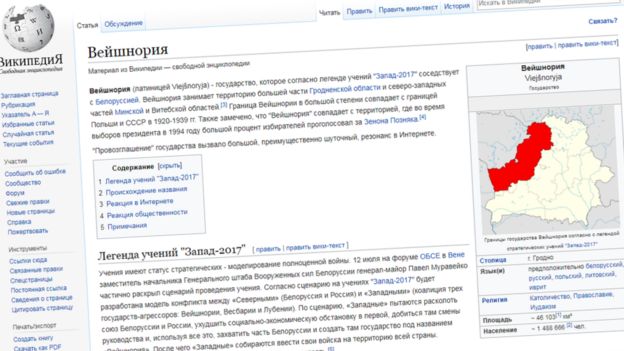 Wikipedia
Veyshnoria is one of three states made up for the Zapad 2017 military drills, which - according to the scenario - seek to invade Belarus and sow discord between Minsk and Moscow, the BBC reported.
The map of the exercise, made public during the General Staff briefing on August 29, shows Veyshnoria in the north-western regions of today's Belarus, with Vesbaria and Lubenia lying in Lithuania and Poland, the Nasha Niva website reports.
Read alsoRussia rejects allegations it will use war games to launch an invasion – ReutersSome commentators noted that the border between Belarus and Veyshnoria "strongly resembles" the border between the Soviet Union in Poland in 1920-39. "This means that under the Zapad 2017 scenario, Belarusians will have to attack the territory of Belarusians," lifestyle website kyky.org said.
"It is likely that Moscow provoked a conflict between Minsk and Giradis (the capital of Veyshnoria) in order to fully establish control over Belarus and not allow Veyshnoria to join NATO and the EU," political historian Pavel Usov said, reflecting on the real-world tensions surrounding Ukraine's desire to link with the West.
Read alsoRussia prepping for "big war" with West – Ukraine NSDC secretaryThe online activity around Veyshnoria mostly centres around the satirical Twitter account of its "foreign ministry", @Vaisnoria_MFA.
Tweeting in Belarusian and Russian, the ministry expressed concern over the "concentration of Belarusian military equipment outside Veyshnoria's borders", declared a partial mobilization and exchanged pleasantries with the parody account of the Russian Foreign Ministry.