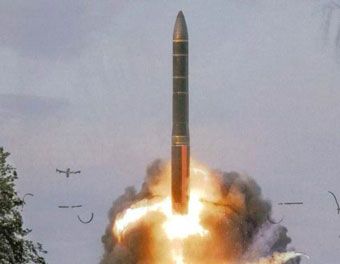 Wikipedia
"The main purpose of the launch was to reaffirm the reliability of a batch of the same class missiles. The experimental warheads reached the designated area at the Kura proving ground in the Kamchatka Peninsula. The targets were met and tasks accomplished in full," the defense ministry said, TASS reports.
The RS-24 ICBM was designed by the All-Russia Thermal Engineering Institute. It is based on the same scientific and technological solutions as the Topol-M missile, which allowed for considerably reducing the research and design phase and costs.
Tactical features, including the missile's range and load capacity, have not been disclosed.
As UNIAN reported earlier, citing Euromaidan Press, in two articles published online last week, Moscow analyst Aleksandr Nemets details the evidence many have assembled showing that Moscow is heavily involved in both the rocket program of North Korea and Pyongyang's "aggressive plans" to use it against other countries.
Read alsoN.Korea's ambitions have nothing to do with Kyiv and everything to do with Moscow - Atlantic CouncilNemets argues that the North Korean actions happened precisely as Russian-American relations were deteriorating, as Moscow's expectations for a new deal with Donald Trump were replaced by a recognition that Washington was going to take a hard line against Russia for its interference in American elections and its aggression in Ukraine.