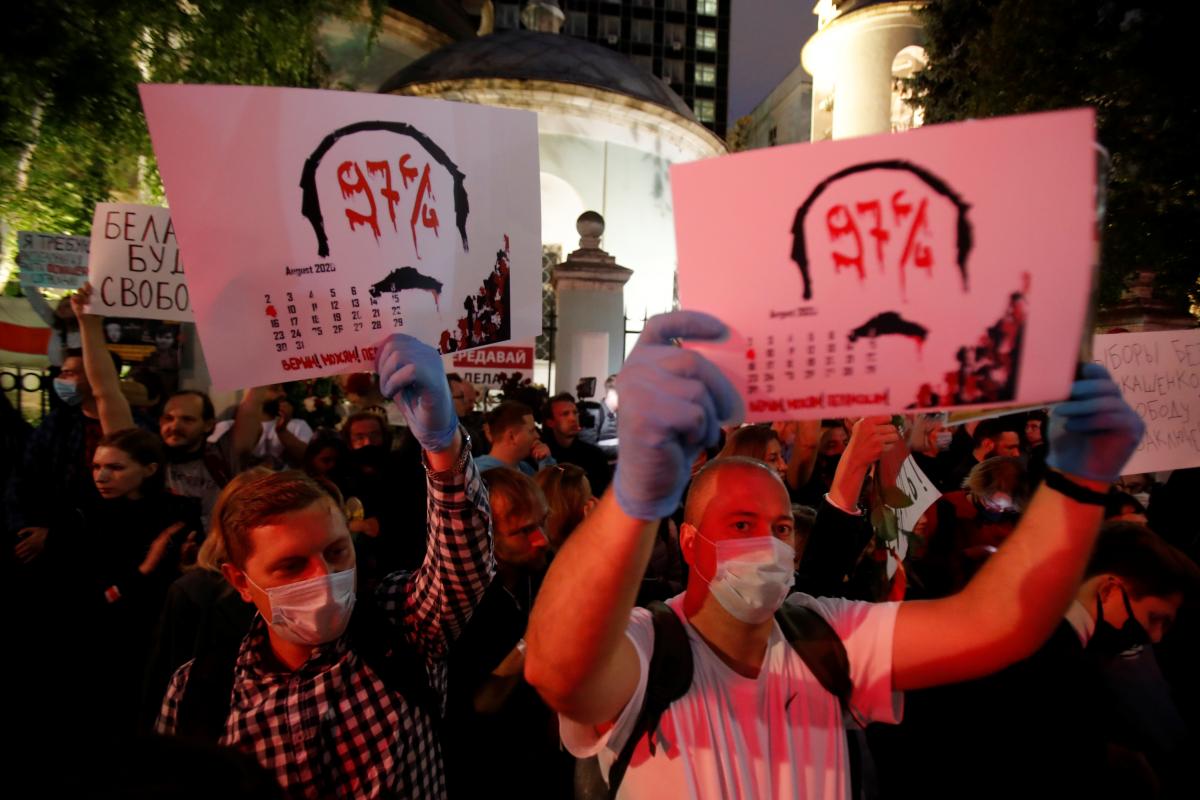 REUTERS
The Prosecutor General's Office of Belarus has opened a criminal investigation into the seizure of state power in the country.
"The creation and activities of the Coordination Council are aimed at seizing state power, as well as harming the national security of the Republic of Belarus. Into this fact, a criminal case was initiated under Article 361 of the Criminal Code," Prosecutor General of the Republic of Belarus Alexander Konyuk told journalists, Euroradio wrote on Telegram.
In turn, the press service of the Coordination Council told Onliner it had not yet received such information and would comment on it as soon as they found out the details.
Read alsoCoordination Council of Belarusian opposition voices requirementsThe Coordination Council was on August 14 initiated by Svetlana Tikhanovskaya, long-time leader Alexander Lukashenko's rival in the latest elections, who had proclaimed herself leader of the united opposition, to ensure a "peaceful transfer of power."
Lukashenko, in turn, delivered an emotionally-charged response to the idea: "They [the opposition] are throwing the other side at us. And they demand as much as to hand them power. So, we perceive this unequivocally: it is an attempt to seize power with all ensuing implications," Lukashenko replied.
It is an attempt to seize power with all ensuing implications
On August 19, the Council elected a presidium, which included, in particular, famous Belarusian politicians and writers.
Belarus protests: background
On August 9, presidential elections were held in Belarus. The country's Central Election Commission announced the final election results. In particular, 80.1% of voters supported incumbent President Alexander Lukashenko, 10.1% voted for Svetlana Tikhanovskaya, 1.67% for Anna Kanopatskaya, 1.2% for Andrey Dmitriev, and 1.14% for Sergei Cherechnya. Some 4.59% voted against all candidates.
Thousands of residents of Belarus took to the streets to protest what they believe is a rigged vote count. Riot police violently cracked down on protesters.
Belarus' Ministry of Internal Affairs said about 7,000 protesters had been detained in different cities since August 9. On the evening of August 13, the authorities started to release detainees.
On August 14, the European Union announced it did not recognize the outcome of the presidential elections in Belarus and on August 19 leaders reportedly agreed on sanctions to be introduced over election rigging and violence against protesters.
The March of Freedom, the largest protest in the history of Belarus, took place on August 16 in Minsk. Hundreds of thousands of people joined in.