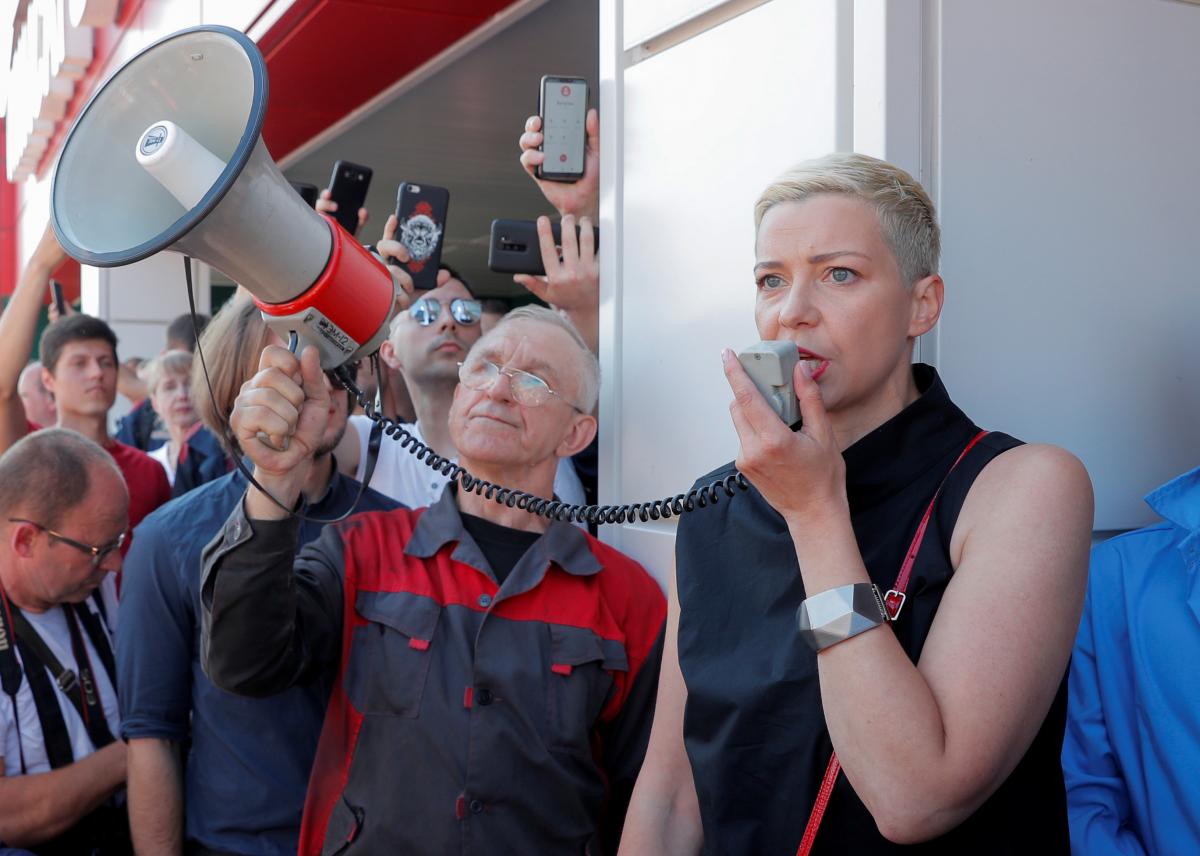 REUTERS
Three senior opposition organizers who went missing and were feared to have been abducted by security forces to stifle ongoing mass protests against President Alyaksandr Lukashenka turned up at the border with neighboring Ukraine early on September 8.
Opposition Coordination Council presidium member Maryya Kalesnikava, press secretary Anton Randyonkau, and executive secretary Ivan Krautsou arrived at the Alyaksandrauka border checkpoint in the Homel region in the same car at around 5:00 a.m, RFE/RL wrote.
Belarusian State Border Committee representative Anton Bychkouski initially said all three had left the country.
But Belarusian state television later quoted Bychkouski saying that Kalesnikava was detained trying to cross the border while the other two had entered Ukraine.
All three are key figures on the Coordination Council that has pressed for a peaceful transition of power since election officials declared Lukashenka the runaway winner of an August 9 vote they say was fraudulent.
Read alsoMarch of Unity in Belarus: Police, plain-clothed masked men chase down, beat, detain protesters (Photo, video)Their disappearances elicited accusations by the European Union that the embattled Belarusian regime was using kidnapping and intimidation to quash more than four weeks of unprecedented protests.
Thousands of people have been arrested, journalists have been harassed and expelled, and clips have emerged of Lukashenka's security services brutally abusing detainees.
Members of the Coordination Council and its decision-making presidium have been summoned by police and in some cases sentenced to jail.
An eyewitness reported seeing Kalesnikava swept up by unidentified men from the street and into a minivan in downtown Minsk on September 7.
Acquaintances said contact was lost soon afterward with Randyonkau and Krautsou.
The opposition's leading hope in last month's election was political novice Svyatlana Tsikhanouskaya, who fled into exile in Lithuania days after the vote.
Tsikhanouskaya is scheduled to address the Parliamentary Assembly of the Council of Europe (PACE)'s Committee on Political Affairs and Democracy during an exchange of views on the situation in Belarus later on September 8.
She is also scheduled to visit Warsaw this week to hold meetings with top Polish officials.
Lukashenka, who has served five terms already, has refused to hold talks with his opponents and dismissed calls to hold a new election.
The EU "expects the Belarusian authorities to ensure the immediate release of all detained on political grounds before and after the falsified August 9 presidential election," the bloc's foreign policy chief Josep Borrell said on September 7.
Belarusian authorities acknowledged detaining some 633 protesters as tens of thousands marched in the capital and other cities on September 6 to pressure Lukashenka to leave.
Recent developments in Belarus in brief
On August 9, presidential elections were held in Belarus. The country's Central Election Commission announced the final election results. In particular, 80.1% of voters supported incumbent President Alexander Lukashenko, 10.1% voted for Svetlana Tikhanovskaya, 1.67% for Anna Kanopatskaya, 1.2% for Andrey Dmitriev, and 1.14% for Sergei Cherechnya. Some 4.59% voted against all candidates.
Thousands took to the streets to protest what many believe was a rigged vote count. Riot police violently cracked down on protesters.
Belarus' Ministry of Internal Affairs said about 7,000 protesters had been detained in different cities since August 9. On the evening of August 13, the authorities started to release detainees.
On August 14, the European Union announced it did not recognize the outcome of the presidential elections in Belarus.
The March of Freedom, the largest protest in the history of Belarus, took place on August 16 in Minsk. Hundreds of thousands of people joined in.
On August 20, the Prosecutor General's Office opened a criminal probe into the attempt by the opposition to "seize power."
Lukashenko has repeatedly claimed "foreign interference" in the election and the external efforts to foment protests. He spoke with Russian President Vladimir Putin who had promised him comprehensive assistance upon request.
Belarusian Defense Minister Viktor Khrenin has warned of the possible use of army to disperse protesters rallying under the flags he claims were once used by Nazi troops.
On September 6, the March of Unity was held in the cities of Belarus. According to various sources, a total of nearly 100,000 protesters took part in the rally.