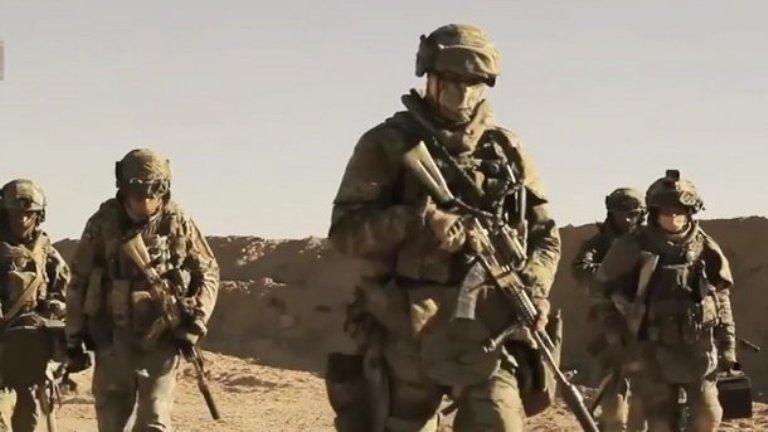 rossaprimavera.ru
The Russian newspaper Novaya Gazeta has published two new videos corroborating the brutal torture and murder of a deserter in Syria.
It was mercenaries that are part of Russia's "Wagner" private military company who are alleged to have carried out the killing in June 2017, Meduza reports.
The videos show the man being burned in the groin with a fuse from a hand grenade, shot at with machine guns, and beaten with a sledgehammer. Novaya Gazeta also published photos showing the man's severed head hanging from a fence.
Furthermore, the newspaper's journalists have revealed the full name of one of the alleged executioners: Stanislav Dychko (previously identified as "Stanislav D"). According to Novaya Gazeta, he was born in 1990 and served in the Stavropol police before joining the Wagner group in 2016.
Read alsoRussian propaganda targets CNN reporter following exclusive reporting on country's secret army in Africa – media
"If the footage we published before did not make an impression on the employees of the Russian Investigative Committee […] and the investigators did not see any evidence of a crime, then we suggest they look again," the Novaya Gazeta report reads.
This gruesome murder allegedly took place at the Shaer gas field in Syria in June 2017. The victim has been identified as Mohammed Taha Ismail Al-Abdullah, a Syrian man who deserted from the Assad regime's army.
In November 2019, the Novaya Gazeta posted a video, in which two people are seen torturing the Syrian man, while speaking Russian. At this point, the publication identified one of the executioners as "Stanislav D" and appealed to the Russian Investigative Committee to launch an official investigation into the incident.
Previously, the St. Petersburg news outlet Fontanka published the names of four more mercenaries from the Wagner group who allegedly took part in torturing and killing the Syrian man. According to the Novaya Gazeta, between five and seven people were involved in the murder.