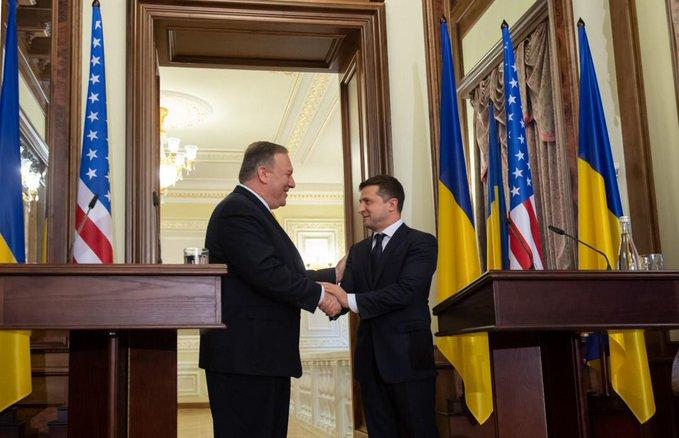 Twitter / Volodymyr Zelensky
The United States has raised with Ukraine the issue of "malign" Chinese investment in the country.
Secretary of State Mike Pompeo brough up the issue as he spoke with Ukrainian President Volodymyr Zelensky over the phone on August 26, the State Department's spokesperson Morgan Ortagus reported.
Read alsoUkraine prepares to snub China in aerospace deal with U.S. help – Forbes"Secretary Pompeo raised U.S. concerns regarding malign PRC [People Republic of China] investment in Ukraine, including Beijing's efforts to acquire the Motor Sich engine manufacturer," says the readout, released on August 29.
Motor Sich acquisition and U.S. reaction: background
Motor Sich is one of the world's leading manufacturers of engines for the aviation industry.
After it abandoned its role of a traditional supplier to Russian aviation, it ended up at the epicenter of an international diplomatic spat since in 2017 the Chinese Skyrizon Aircraft Holdings Limited took over 41% of the capital and then sealed the majority.
The shares were frozen in 2017 pending an investigation by Ukraine's security service (SBU).
On August 25, 2019, PR Director of OJSC Motor Sich Anatoliy Malysh announced that China's Skyrizon and Xinwei Group had already applied to the Antimonopoly Committee for the approval of the deal to acquire over 50% of Motor Sich's shares.
The Wall Street Journal, citing sources in the U.S. administration, reported that the United States was trying to prevent the Chinese company from buying the Ukrainian Motor Sich plant, as this would significantly boost China's defense positions.
Read alsoU.S. hopes Ukraine's Motor Sich not be sold to ChinaOn August 28, 2019, the then-U.S. presidential adviser John Bolton said in Kyiv about risks of selling part of the Ukrainian Motor Sich to the Chinese side. According to him, China is playing a dishonest game in the United States and is stealing military technology.
It was reported that Erik Prince, a private security contractor and informal adviser to U.S. President Donald Trump, is in discussions to purchase a Ukrainian aerospace asset, Motor Sich.
A Kyiv court in April 2020 rejected an appeal by Chinese investors to unfreeze Motor Sich's shares.
In August 2020, Ukrainian privately-owned conglomerate DCH said it had signed an agreement to buy a 25% stake in Motor Sich from Chinese investor Skyrizon Aircraft Holding Limited.
The DCH deal needs approval from Ukraine's national regulator, the State Antimonopoly Committee.
In late July, the son of Vyacheslav Boguslayev, who had long been at the helm of Motor Sich, acquired the Gallinara island in Italy's Liguria for over EUR 10 million.