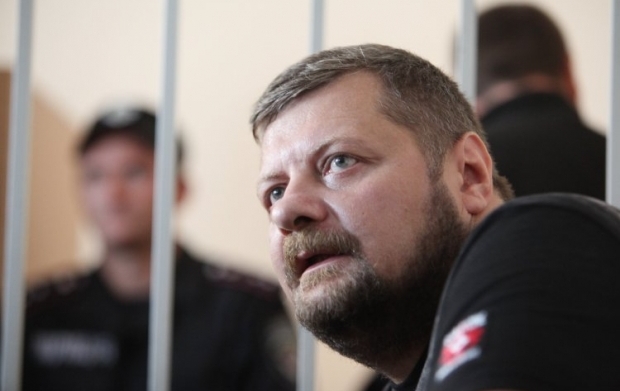 Mosiychuk has an investigative journalist background / Photo from UNIAN
"Political prisoner Ihor Mosiychuk is our nominee for Kyiv mayor," he wrote.
Kyiv's Pechersk district court ruled on September 18 that Mosiychuk should be remanded in custody, having thus satisfied a motion filed by the Prosecutor General's Office (PGO).
The prosecutors had requested a two-month detention for Mosiychuk because he could abscond, harass witnesses and destroy evidence. They accused him of committing serious crimes and demanded imprisonment for up to 12 years as the punishment.
The defense said that the prosecutors had not provided any proof of Mosiychuk's committing the crimes.
As UNIAN reported earlier, on September 17, the Verkhovna Rada agreed to prosecute, detain and arrest MP Mosiychuk. He was shortly after detained in the parliament's building.
According to the PGO, Mosiychuk is suspected of committing criminal offenses under Part 4 of Article 368 (acceptance of the offer, promise or receipt of undue advantage by an official); Parts 2, 3 of Article 296 (hooliganism), Parts 1, 2 of Article 350 (threats or violence with respect to an official or citizen fulfilling a public duties); Part 1 of Article 376 (interference in the judiciary); and Parts 1, 2 of Article 377 (threats or violence with respect to the judge, lay judge, or a juror) of the Criminal Code of Ukraine.
Mosiychuk has an investigative journalist background, he was editor-in-chief of the Vechirniy Vasylkiv local newspaper (Kyiv region), which suffered from political persecution during Leonid Kuchma's presidency. He is also a leading activist of the organized Social Nationalist movement in Ukraine.
In 1990s, he was an advocate of Ukrainization (a policy of increasing the usage and facilitating the development of the Ukrainian language and promoting other elements of Ukrainian culture) by swapping Soviet books for Ukrainian-language ones free of charge for local libraries and arranging meetings with famous Ukrainians from the Diaspora. He was an active supporter of dismantling symbols and monuments of the Soviet period.
In November 2014 he became MP from the Radical Party, he is first deputy head of the Verkhovna Rada's committee on legislative support of law-enforcement activity.
In summer 2014, he served as deputy commander of the Azov Battalion for public relations.