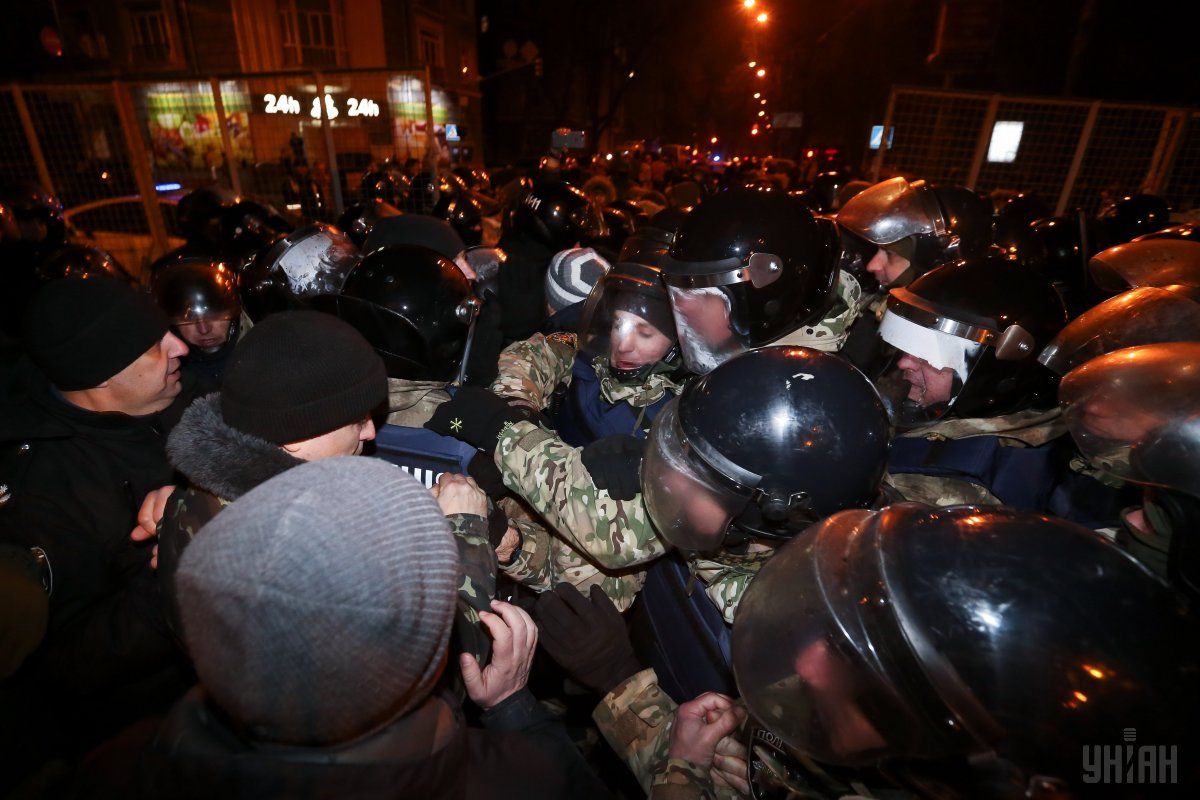 Clashes between police and protesters broke out on neighboring Instytutska Street / Photo from UNIAN
"Five people have been detained, one policeman has seriously been injured," chief of the Kyiv police office Andriy Kryshchenko has said.
Protesters who wanted to gather outside the Presidential Administration building on Bankova Street demand suspending trade with occupied areas in Donbas.
Read alsoU.S. Embassy reacts to Donbas blockade, warns of consequencesClashes between police and protesters broke out on neighboring Instytutska Street on Sunday evening.
Member of Parliament Semen Semenchenko, who supports the trade blockade, explained that the incident had been caused by the fact that riot police did not let him, other MPs, including Yehor Sobolev, and protesters, move farther to the Presidential Administration along Instytutska Street.
Sobolev also suffered from a punch in the face.
The police cordoned off the site with wire mesh. Some witnesses said they had heard explosions of either firecrackers or smoke-puff charges.
Hromadske TV reported that participants in the rally had thrown firecrackers at police officers and tried to break through the mesh fence to the presidential administration's building.
Police said that 6,500 officers were involved in keeping law and order in the city on February 19 amid public events devoted to the third anniversary of the Revolution of Dignity and in commemoration of the Heavenly Hundred Heroes killed during Euromaidan protests three years ago.
Later, Sobolev wrote on Facebook that several dozen police officers brought by Interior Minister Arsen Avakov had managed to disperse a rally of those who oppose trade with occupied Donbas. According to him, several were detained, some were taken by ambulances. "[The police] tore down our tent we wanted to put up at the corner of Bankova and Instytutska," he said. "A brilliant victory by the brand-new police together with the National Guard!" he added bitterly. He also invited those who disagree with the current situation to come to Kyiv's Maidan Nezalezhnosti, or Independence Square, to join other protesters.
Red Cross representatives reported that as of Sunday evening there were at least 10 victims of the clashes. Of them, one person had a head injury, another victim is a person with heart disease.
UNIAN memo. The OUN battalion is a battalion of Ukrainian military volunteers who served in the village of Pisky, near the ruined Donetsk airport, from August 2014 to April 2015 until it was reorganized and part of the volunteers joined the Armed Forces of Ukraine.