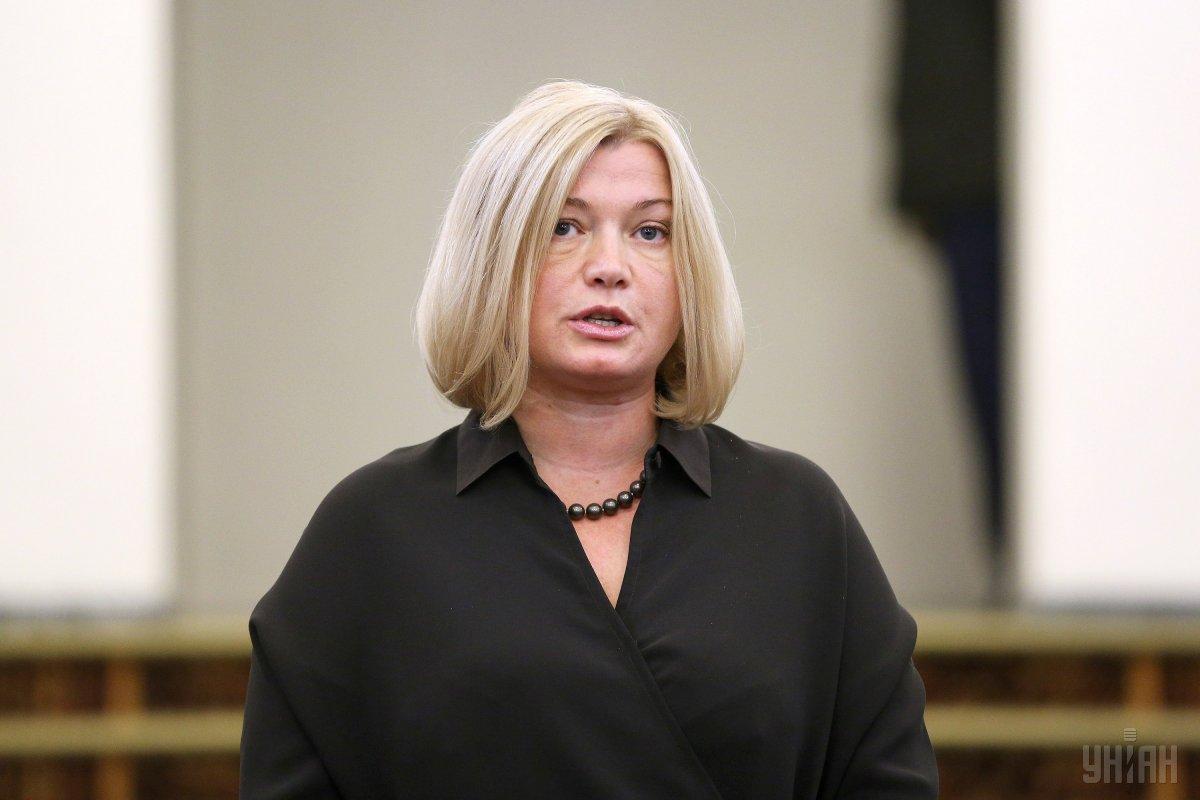 Photo from UNIAN
First Deputy Chair of the Verkhovna Rada of Ukraine, Iryna Gerashchenko, believes that the "Donbas peace plan", which was announced by OSCE Special Representative in the Tripartite Contact Group, Martin Sajdik, is his independent initiative.
"The representative of the UN Secretary General only confirmed my assessment of the so-called 'Sajdik plan'. This is an individual initiative for which Ambassador Sajdik had no mandate – neither from the OSCE nor from the United Nations, nor from the "Normandy Four," she wrote on Facebook.
Gerashchenko also expressed her concern that the OSCE coordinators in the TCG and subgroups often imitate the process.
"Of particular concern is their chronic and panicking obsequiousness before Moscow. Moscow frankly destroys and discredits the OSCE, which is represented by coordinators," the vice-speaker emphasized.
Read alsoEU steps up pressure on Russia over Ukraine – media
Also, Gerashchenko reported that in the Minsk groups, in particular at the latest meeting on Wednesday, January 30, Ambassador Sajdik never presented any "peace plans" and neither did he discuss them.
As reported earlier, the United Nations Resident Coordinator, Humanitarian Coordinator and UNDP Resident Representative in Ukraine, Osnat Lubrani, said that the UN has nothing to do with the OSCE envoy Martin Sajdik's plan, although noting that he supports the proposals designed to achieve peace in Donbas.
As UNIAN reported earlier, on Jan 28, 2019, Sajdik announced a new "Donbas settlement" plan involving a joint UN and OSCE mission.
It is assumed that the Normandy Four leaders must conclude a new agreement, to be approved by both Ukrainian and Russian parliaments.
He clarified that it is about the UN-OSCE interaction under the joint leadership of a so-called special representative.
He added that also, the European Union plans to organize a recovery and reconstruction agency using the example of the one already operating in the Balkans.
At the same time, he reported on the proposal to set up in Donbas a transitional UN administration, which, among other things, would guarantee that the rights of the local population are observed, not restricted.  This will also include the issue of amnesty.
Also, he noted that "the Minsk agreements clearly stipulate that representatives of the so-called special areas of Donetsk and Luhansk [regions] will participate and be heard in the [settlement] process."
"We assume that this should be the case even after a comprehensive agreement is approved," Sajdik added.
In turn, Ukrainian Foreign Minister Pavlo Klimkin said that Sajdik's "plan" was the latter's "own vision", while real things should be discussed after the "DPR and "LPR" disappear.
According to Klimkin, Sajdik's proposals do not represent any new plan as such, while including some progressive items in the context of the need to introduce an international component in Donbas.
At the same time, U.S. Special Representative for Ukraine Negotiations, Ambassador Kurt Volker, said Sajdik's plan was directed at finding ways to implement Minsk agreements.