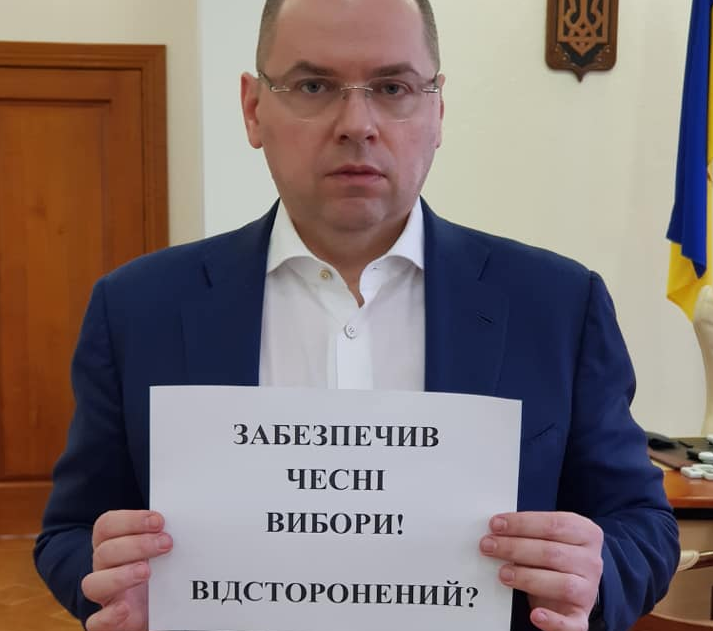 Facebook / Maksym Stepanov
Maksym Stepanov, Chairman of the Odesa Regional State Administration, who earlier today in defiance of President Petro Poroshenko's decree refused to leave his post, linked his dismissal to the holding of "fair elections".
On his Facebook, Stepanov published a photo where he poses holding a sheet of paper saying "Ensured fair elections! Suspended?"
A caption to Stepanov's photo reads "#chesnivybory", which means "fairelections."
As UNIAN reported earlier, Ukrainian President Petro Poroshenko dismissed Maksym Stepanov as Head of Odesa Regional State Administration and appointed First Deputy Head Serhiy Parashchenko as acting governor.
The relevant decrees were published on the president's website.
However, in an unexpected move, Stepanov refused to step down.
Read alsoHandziuk murder: Kherson Governor Gordeev resigns
"A decree on my dismissal was published on the president's website a few hours ago. A very strange document, which, in my opinion, according to all lawyers, has nothing to do with the legislation of Ukraine," he told a briefing on Monday, according to an UNIAN correspondent.
Stepanov said the document "went beyond the powers of the president" enshrined in the Constitution.
He added the president has the right to appoint and dismiss the heads of the regional state administrations on the proposal of the Cabinet of Ministers. At the same time, Stepanov said he was offered to write a letter of resignation. "I refused because I have no desire to do this. I continue to perform my duties," he said.
UNIAN memo. Maksym Stepanov was appointed Odesa governor in January 2017. He replaced Mikheil Saakashvili.
Before his appointment, he led a state-run Ukraina Printing Plant.