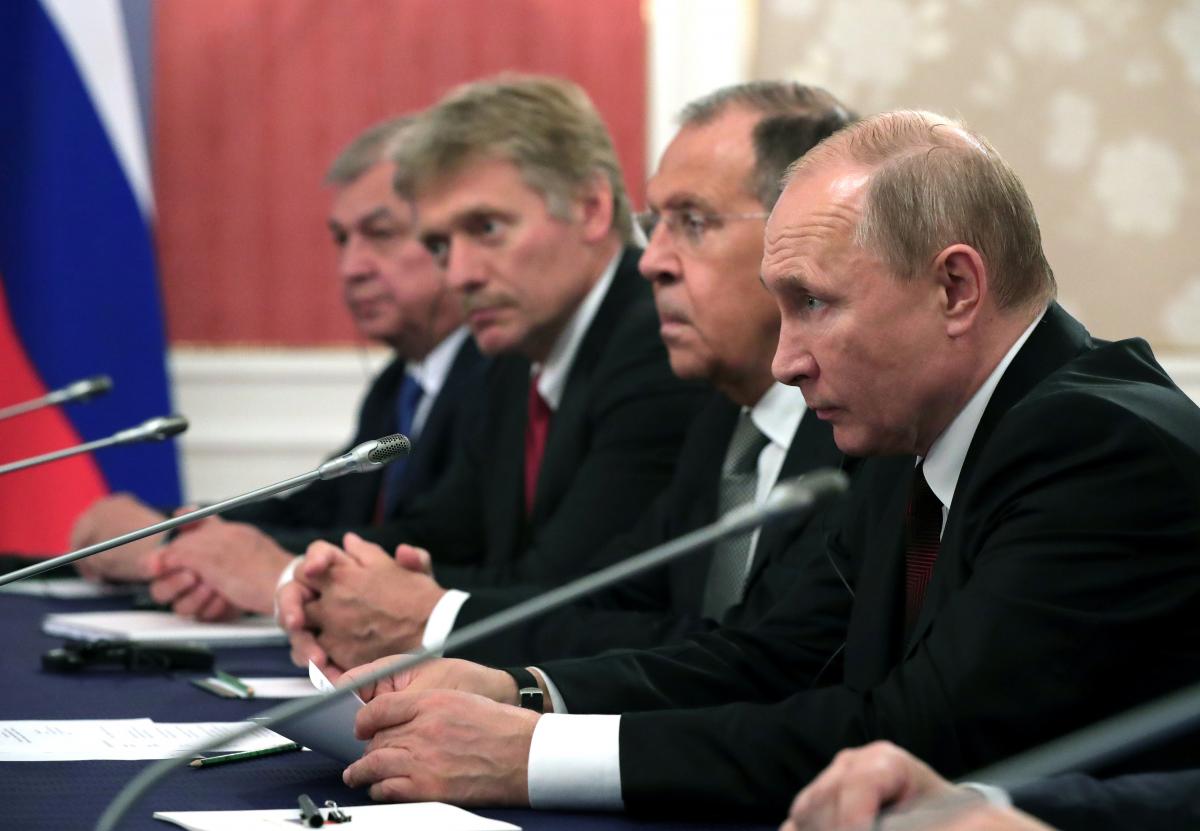 REUTERS
The Kremlin says Russia will return to negotiations on holding the summit of the Normandy Four (Ukraine, Russia, Germany, and France) leaders only after Ukrainian President Volodymyr Zelensky "forces volunteers to perform his orders" to withdraw from Zolote and Petrivske.
"Of course, we followed with great attention [Zelensky's visit to Zolote]. Some of the dialogues that took place highlighted the existing issues and showed the primary source of these issues. We hope that as the president of Ukraine forces these units to perform his orders, then, in fact, we can talk about preparing for disengagement, which, in turn, is an important component for preparing the summit," Vladimir Putin's spokesman, Dmitry Peskov, said, answering a question from UNIAN.
Read also"I'm not some loser!": Zelensky to volunteer during visit to disengagement area
As UNIAN reported earlier, on Oct 26, in the settlement of Zolote-4, Zelensky met with a group of volunteers and war veterans, who had been staying since early October, opposing the idea of disengagement in the area.
Following the conversation, heated at times, volunteers with the National Corps organization and veterans of the Azov Regiment said they were going to hold their ground in Zolote and would not allow disengagement of troops.
Zelensky later reported on Facebook that he had spent two days in Zolote, where he met "with teachers and doctors", and learned about the concerns of local residents. He said a group of armed people settled on the settlement outskirts.
"I decided to talk to them personally. Some of the conversations turned out to be emotional," the president explained. The Joint Forces Operation HQ reported that armed men, with whom the president spoke in Zolote, had been staying in the area illegally, and that this would be properly assessed in the legal field.
Read also"Everyone wants peace. Everyone is ready for disengagement": Zelensky on Zolote visit (Photo)
In turn, on October 27, the Ministry of Internal Affairs reported that volunteers and veterans had taken out their legal weapons from Zolote-4 after meeting with Zelensky and talking with the police.
As reported earlier, rallies were held across Ukraine in October in protest against what activists call "surrender" in the context of prospects for the signing of the so-called "Steinmeier formula" of Donbas settlement.
Protesters also argue that history says Russia cannot be trusted, and that disengagement of forces could lead to a loss of territories.
As UNIAN reported earlier, Ukrainian President Volodymyr Zelensky on October 1 said the Ukrainian side at Trilateral Contact Group (TCG) talks in Minsk had responded to a letter from Special Representative of the OSCE Chairperson-in-Office in Ukraine and in the TCG, Ambassador Martin Sajdik that the so-called "Steinmeier formula" on the peace settlement in Donbas was "pending approval." "We responded to Mr. Sajdik's letter that we have been in the process of approval of the wording of the 'Steinmeier formula'," Zelensky said.
"The 'Steinmeier formula' should be incorporated in a new law on special status [the law on special provisions of local self-government in certain districts of Donetsk and Luhansk regions], which is not ready yet," Zelensky said. The current law on Donbas' special status is expiring on December 31, 2019.
According to the president, a new law will be developed by the parliament in close cooperation and open discussion with the public and no "red lines" will be crossed in the new law.