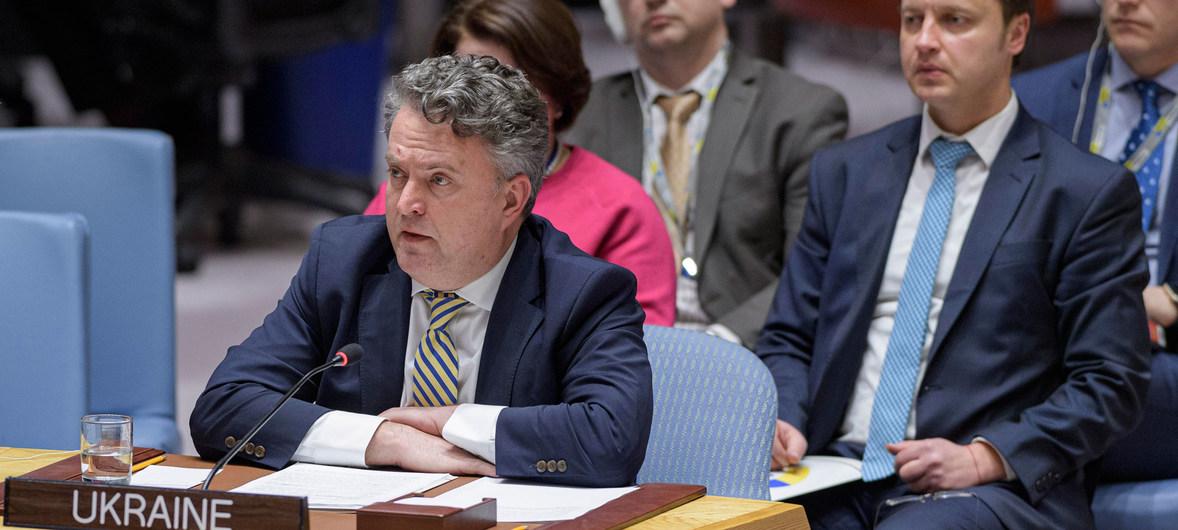 Serhiy Kyslytsya / UN M.Elias
Chief of Ukraine's Permanent Mission to the United Nations, Ambassador Serhiy Kyslytsya has said there is no justification for former vice-governor of Russia's Irkutsk region to "head" occupied Donbas.
"Whenever reminded of its own Minsk commitments, Russia immediately points finger at Ukraine, saying that it is us who should hold a so-called direct dialogue with the representatives of two so-called 'local authorities' in the temporarily occupied parts of Donbas. But what are they? How local is the recently appointed so-called acting head of 'government of Donetsk' Vladimir Pashkov? The citizen of Russia, born in Siberia, graduated from the Russian Military Pacific Navy School and, until recently, the vice-governor of the Irkutsk region of Russia?" Kyslytsay said at a UN Security Council (UNSC) meeting in New York City on February 18.
Read alsoRussia issues over 200,000 passports to Ukrainians in Donbas – Ukraine's envoy to UN
"Would you like to know how close is Irkutsk to Donetsk? Some insignificant 6,000 km. Still local enough, in the opinion of Moscow, to rule in Donbas and to be talked to about its future," Kyslytsya said.
Earlier, President of Ukraine Volodymyr Zelensky has ruled out the possibility of direct dialogue between the Ukrainian authorities and representatives of occupation administrations in eastern Ukraine's Donbas.
We are ready for dialogue with the civilian population of these territories, but not with those who haven't been recognized from the international law perspective, and therefore cannot represent the local population of Ukraine," Zelensky said during the Munich Security Conference.